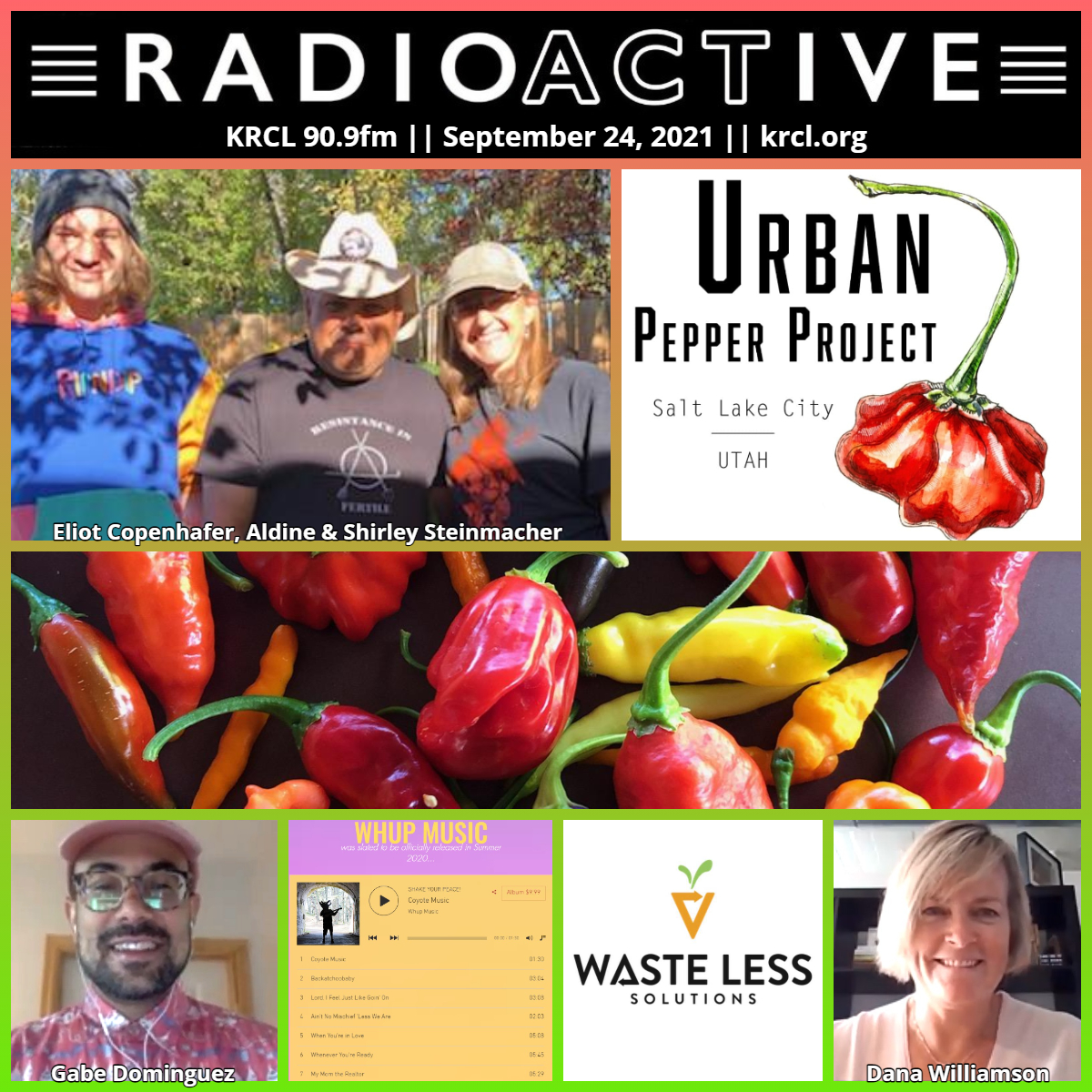 #PunkRockFarmerFriday and Al's visiting with folks at the Urban Pepper Project SLC. Plus, Garden Share wants your extra harvest. Nightmare on 13th is back! Classic Skywatcher Leo T. Fresh, homegrown music from Shake Your Peace.
Tonight's show featured the following people, organizations and/or events. Check them out and get plugged into your community!
Fresh, homegrown music from Gabe Dominguez' SHAKE YOUR PEACE! project. Originally designed as a theatrical pep rally to excite and engage youth in climate change, Gabe and friends had planned to take the show to schools last year. You can hear it now. To download the album, click here.
"SHAKE YOUR PEACE! is a Chicanx/ Punjabi performance artist howling out of Goshute, Ute, and Eastern Shoshone land (Salt Lake City, Utah) who's created a new music style called "whup." Whup is a rock & roll hybridization of: Afro-Latin and Caribbean rhythms, bluegrass fiddling, gospel choir, marching band percussion, and ecotopian perspectives. Simply put: it's social/eco-justice music you can dance to; a defiant celebration of human cultural diversity and the wilderness.

Beyond the music, SHAKE YOUR PEACE! is known for incorporating environmental activism into both tours and live shows (a principle he refers to as "harmony onstage/ harmony offstage"). This passion for "harmony offstage" is best exemplified by SHAKE YOUR PEACE!'s many experiments with touring by bicycle, and by foot (hauling drums, amplifiers, and guitars all without the help of a tour van), and amplifying concerts with a bicycle-powered sound system (pedaled by volunteers from the audience). In 2007, these experiments inspired SHAKE YOUR PEACE! to co-found the award-winning Bicycle Music Festival in San Francisco, heralded by the press as: "the greenest music festival ever conceived." The festival, as an open-source idea, has since inspired BMF-style events around the world, from South Korea, to Uruguay, to Canada, all produced by autonomous groups of volunteers.
A classic edition of SkyWatcher Leo T, a RadioACTive volunteer contributor who shares lives love for #ManyCulturesOneSky during #PunkRockFarmerFridays.
Nightmare on 13th is back for its 31st spooky season. RadioACTive got a preview with the team behind the scenes, including Mike Henrie, owner; Jake Mabey, general manager; and cast and costume director Jimmy Dilley. Click here for tickets.
Dana Williamson of Waste Less Solutions, a nonprofit preventing and diverting food waste in Utah through food rescue. WLS recently took over the GardenShare program and wants your extra harvest to share with those in need.
Don't know what to do with all the extra zucchini and tomatoes in your garden? Take your surplus vegetables and fruit to your closest volunteer collection home or business. Collection sites are designated by a visible collection sign and cooler/crate. VIEW THE GARDENSHARE MAP || BECOME A GARDENSHARE COLLECTION SITE
Aldine's #UrbanFarmReport featured an on-site visit with Shirley Steinmacher and her son, Eliot Copenhafer, of the Urban Pepper Project SLC. Click here to stay in touch about next year's plant sale!
Views, thoughts or opinions shared by guests are their own and do not necessarily reflect those of the board, staff or members of Listeners' Community Radio of Utah, KRCL 90.9fm. Tonight's show was produced and hosted by Lara Jones and Aldine, KRCL's Punk Rock Farmer.
###