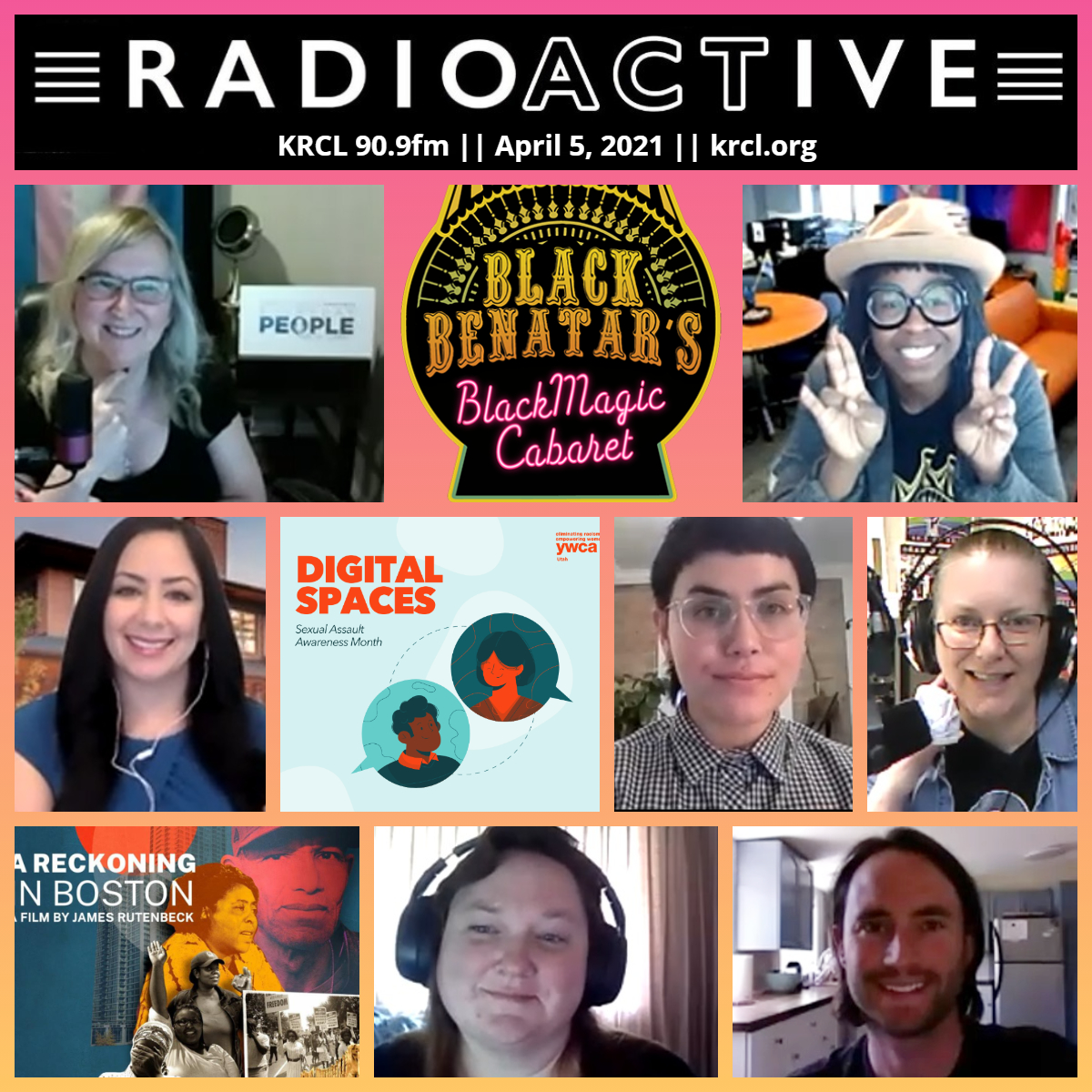 Practicing consent online and IRL with Jess Burnham and Gabe Archuleta of YWCA Utah. Plus, Black Benatar's Black Magic Cabaret and A Reckoning in Boston. All on another #EverydayPeople edition of the show with Community Co-Host Sue Robbins.
Tonight's lineup:
Utah Humanities, Weber State's Lindquist College of Arts & Humanities and Westminster College's School of Arts and Sciences invite communities throughout Utah to join them for a special virtual screening of "A Reckoning in Boston" at 5:30 p.m. this Wednesday. RadioACTive got a preview with Josh Wennergren of Utah Humanities and Brenda Nicholson, a Venture graduate.
The documentary follows students in a Clemente Course in the Humanities, a free, interdisciplinary humanities course offered to adults "of modest means who dare to dream." While the events of the film take place in Boston, the documentary is relevant to all audiences, and especially those in Utah, where the Venture Course operates as part of a national network of Clemente Courses.

It's free – register at https://watch.showandtell.film/watch/utah. When you register, you will receive an email with access to stream the film on April 7th at 5:30pm MST and join a live Q&A at 7:00pm MST.
Last Friday artist Beatrice Thomas debuted Black Benatar's Black Magic Cabaret, in partnership with Utah Presents and the College of Social Work, University of Utah, from Kingsbury Hall in SLC. RadioACTive caught up with Thomas to find out what's next for her unique creation — an eclectic theater spectacle that fuses elements of local performance, magic, and drag performance to bring audiences on a journey through race and cultural allyship in the U.S.
April is Sexual Assault Awareness Month (SAAM). Sue hosted an #EverydayPeople panel on practicing consent online and IRL, featuring:
Jess Burnham, Prevention Program Manager, Salt Lake Area Family Justice Center and YWCA Utah
Gabriella Archuleta, Public Policy Analyst, YWCA Utah
YWCA Utah Resources for SAAM 2021:
Cyber Civil Rights Initiative Helpline: counselors and victim support specialists available 24/7 to provide emotional support, technical advice, and information to individuals experiencing online abuse, with a focus on nonconsensual pornography (or, "revenge porn"). Accessible by calling 844-878-CCRI.

SafeUT Crisis Chat and Tip Line: licensed clinicians available 24/7 to support young people experiencing emotional crises, bullying, relationship problems, mental health, or suicidal ideation in the form of crisis counseling, suicide prevention, and referrals. Accessible via the SafeUT app or by calling 833-372-3388 (833-3SAFEUT).

National Sexual Assault Hotline: trained support specialists available to provide information, confidential support, and referrals. Call 800.656.HOPE to be connected to a local service provider, access the online hotline 24/7, or seek supportive services via the RAINN mobile app.

National Domestic Violence Hotline: trained advocates available 24/7 to provide support, crisis intervention, education, and referrals to survivors of domestic violence. Accessible by calling 1-800-799-SAFE (7233) or via live online chat.

Love is Respect: trained advocates available 24/7 to provide information, support, and advocacy on romantic relationships to youth ages 13 to 26 via phone, text, or live online chat. Resources also made available to concerned friends, family members, teachers, counselors, and service providers. Get in touch by texting "LOVEIS" to 22522, calling 866-331-9474, or live chatting online.
Views, thoughts or opinions shared by guests are their own and do not necessarily reflect those of the board, staff or members of Listeners' Community Radio of Utah, 90.9fm KRCL. Tonight's RadioACTive team included:
Community Co-Host: Sue Robbins, Community Co-Host of Everyday People edition
Executive Producer: Lara Jones
Assoc. Producer: Billy Palmer
###