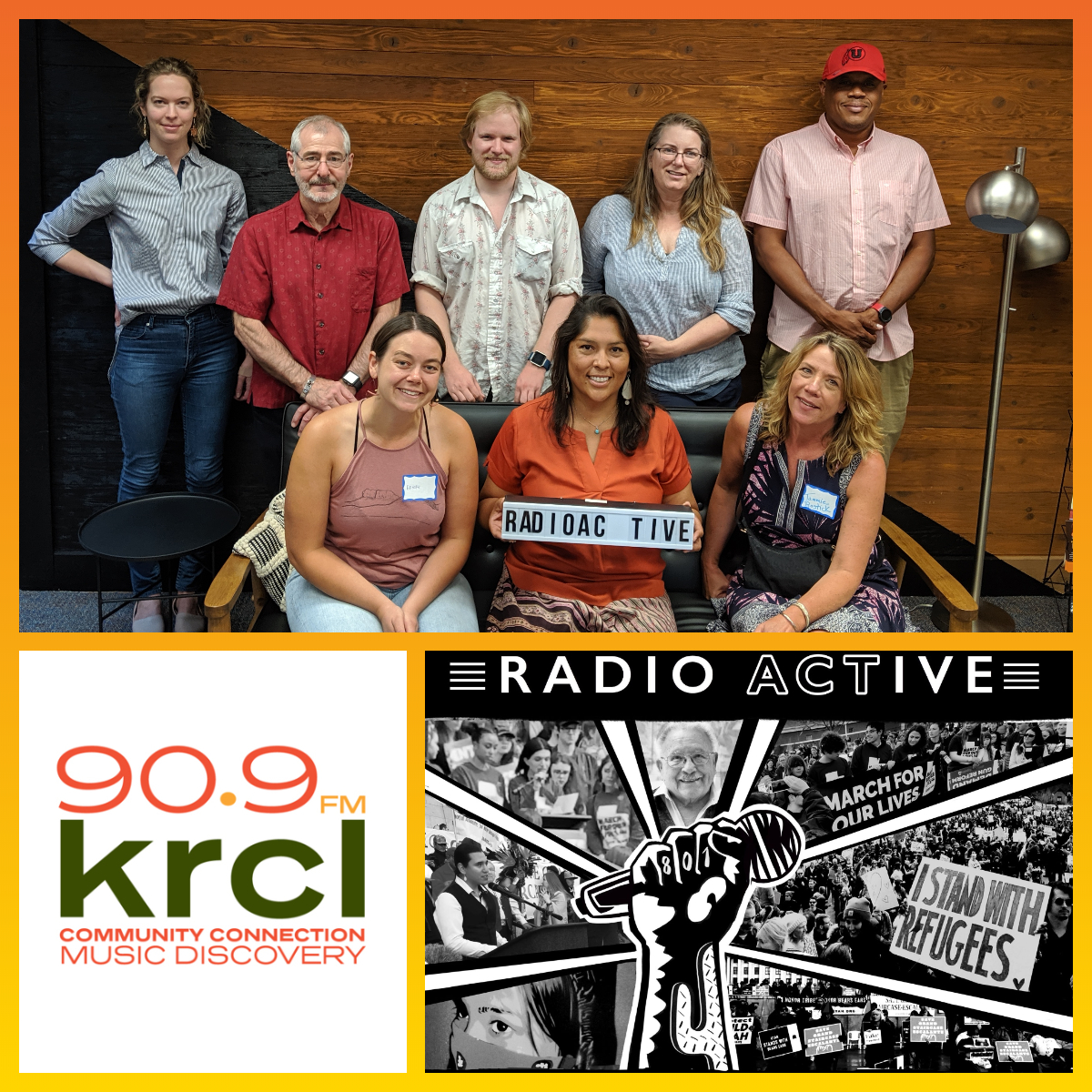 Amos Guiora and Josh Kanter say enough to anti-Semitic dog whistles from the Oval Office. People's Energy Summit with Uplift and SLC Air Protectors, Sierra Club and Utah Clean Cities. Utah County Government upgrades, Utah/BYU bet.
Tonight's lineup:
The People's Energy Summit is coming up Sept. 21. Multiple organizations will be gathering to implement a People's Plan for Utah's Energy Future. Tonight, RadioACTive begins the first of several weekly visits from people and organizations planning the summit.

Brooke Larsen of Uplift, which hosts a youth climate conference for young people across the Colorado Plateau. Uplift connects, trains, and supports young people to act for climate justice.

Davina Smith, Executive Director of SLC Air Protectors. Earlier this week, she completed a 330-mile run across Utah to bring a sacred medicine bundle from the Bears Ears National Monument to the front doors of the Utah State Capitol. Click here to learn more. Smith will be a featured speaker at the People's Energy Summit.
Sierra Club Senior Attorney Nathan Matthews, whose work focuses on fighting the construction of fracked gas pipelines and other dirty fossil fuel projects, and on fighting polluting corporations' plans for oil and gas development on public lands.
Sept. 5-6: EPA hearings (the only ones scheduled) on the Trump Administration's rule change to the Clean Water Act, consistent with the April 2019 Presidential Executive Order entitled "Promoting Energy Infrastructure and Economic Growth."
The Thursday, September 5, session of the public hearing will convene at 2:00 p.m. and conclude at 8:00 p.m. with a break from 5:30 to 6:30 p.m. (Mountain Daylight Time).
The Friday, September 6, session will convene at 9:00 a.m. and conclude at 12:00 p.m. (Mountain Daylight Time).
​Those interested in speaking at the hearing can sign up to speak for three-minutes. Speaking order within sessions will be determined upon arrival at the hearing. Prior to the hearing, the agency will post a general agenda for the hearing that will list pre-registered speakers by session.
Bipartisan Utah elected officials and community leaders spoke out earlier today against the proposed rollback of America's clean car standards. Utah Clean Cities' Tammie Bostick attended and offered her comments on the subject.
Prof. Amos Guiora and Alliance for a Better Utah founder Josh Kanter discussed the SLTribune Commentary: Charging Jews with disloyalty is playing with fire, which they co-wrote with Rochelle Kaplan, a board member of the National Council of Jewish Women, Utah Section, and Jonathan Klein, a member of the Better Utah board of directors.
Utah County Commissioner Tanner Ainge on the county's new survey tool, Your County, Your Voice. If you are 18 years of age and a resident of Utah County, click here to take the first survey.
Got a story you'd like to share on the show or an issue you'd like us to cover? Record a voice memo on your smart phone, then email it to radioactive@krcl.org. Keep it under 3 minutes and be sure to include a name and phone number in the message.
Views, thoughts or opinions shared by guests are their own and do not necessarily reflect those of the board, staff or members of Listeners' Community Radio of Utah, 90.9fm KRCL. Tonight's RadioACTive team included:
Exec. Producer/Host: Lara Jones
Assoc. Producer: Bill Ramsey
Community Co-Host: Nick Burns
Volunteers: Natalie Benoy, Bryan Hoechner
###