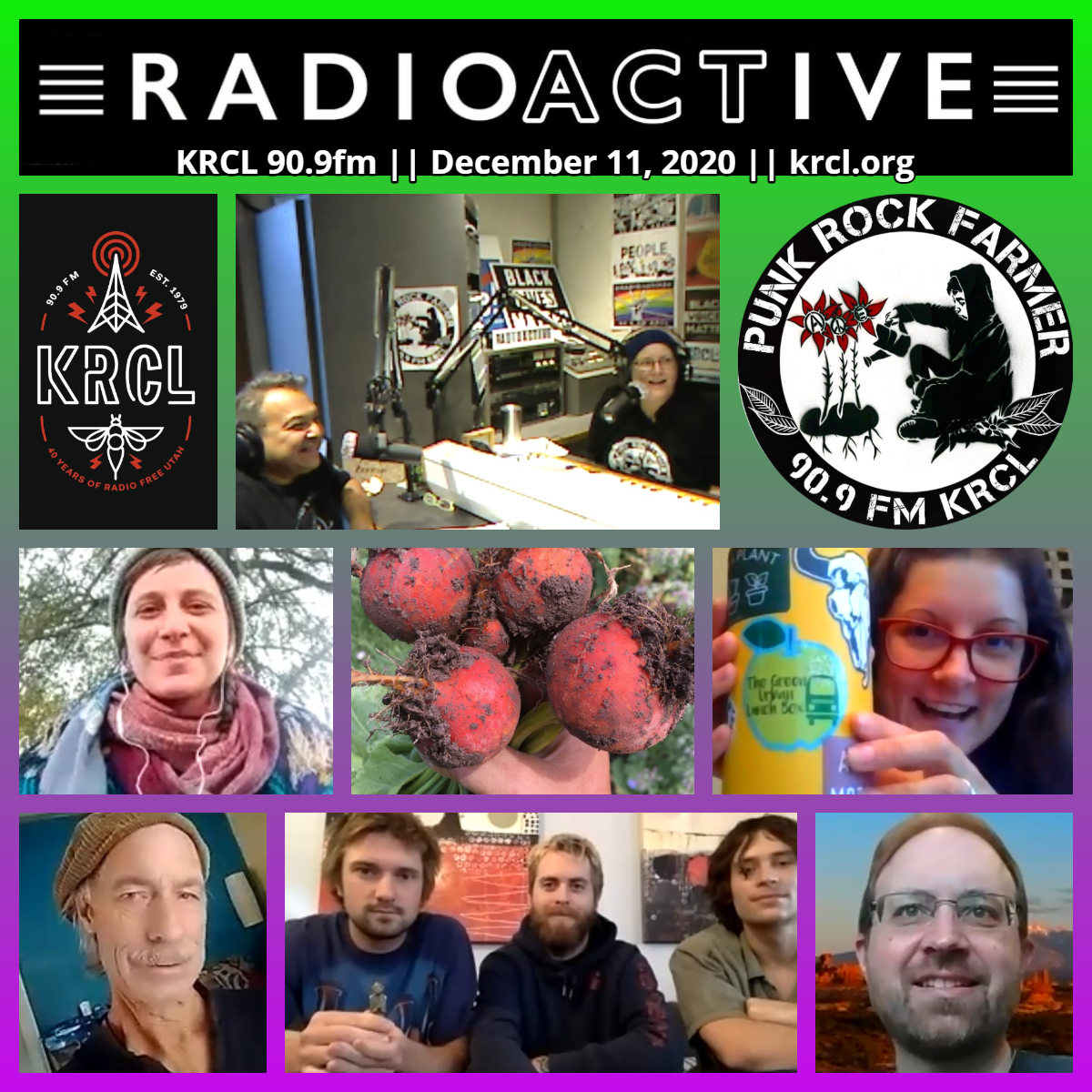 True tales from the agrihood with Aldine, KRCL's Punk Rock Farmer, featuring Katie Nelson of The Green Urban Lunch Box and Rikki Nadkarni-Longino of The Mobile Moon Co-op. Plus, SkyWatcher Leo T, NHMU's Randi Irmis and fresh, homegrown music from Hi Again.
Tonight's lineup:
Fresh, homegrown music from hi again, featuring Paul Curtis (guitar/vocals), Brandon Cochard (bass/vocals) and Finn Harris (drums/vocals. Hi Again has a new EP in the works, but you can stream the songs they recorded for tonight's show here.
Dec. 18: Dad Bod, hi again and Adult Prom at Urban Lounge, 241 S. 500 E., SLC. Hosted by Urban Lounge: "We have been working hard over these last few months to create a safe, indoor concert experience. The entire event is seated. Tickets will be sold in household groups with a minimum of 4 persons. Each group will be separated by 6 feet from other groups. We ask everyone to please keep a 6-foot distance from each other as well while moving throughout the venue to use the restroom, step out into the back patio, etc. Masks are required to be worn at all times. You are allowed to dip your mask down to sip your beverage only, and we ask that you put it back on between drinks. The singer will be allowed to not wear a mask, as we will place a plastic shield directly in front of the performer." Click here for tickets.
Many Cultures, One Sky with SkyWatcher Leo T, who covered the alignment of Saturn and Jupiter in the southern sky, Heroes of NASA, Geminids meteor shower and the Winter Solstice, which hits at 3:02 a.m. Monday, Dec. 21. Says Skywatcher Leo T: "This is when the darkness starts to give way to the light."
Rikki Nadkarni-Longino of The Mobile Moon Co-op and the Garden Coordinator for the Salt Lake City Public Library. The University of Utah Environmental Humanities Graduate Program recently named Rikki their first Environmental Humanities Community Practitioner-in-Residence.
Randall Irmis, Natural History Museum of Utah's Chief Curator. His research has been featured in the Journal Nature for a ground-breaking study on the evolutionary origin of pterosaurs, aka flying reptiles.
Al's #UrbanFarmReport, featuring Katie Nelson of The Green Urban Lunch Box, a food justice nonprofit organization that seeks to empower people to connect to their food and community by revitalizing urban spaces and building a resilient food culture. Click here to check out some of the programs they offer to help folks grow food in our community.
Views, thoughts or opinions shared by guests are their own and do not necessarily reflect those of the board, staff or members of Listeners' Community Radio of Utah, 90.9fm KRCL. Tonight's RadioACTive team included:
Community Co-Host: Aldine, KRCL's Punk Rock Farmer
Executive Producer, Host: Lara Jones
Assoc. Producer: Billy Palmer
###