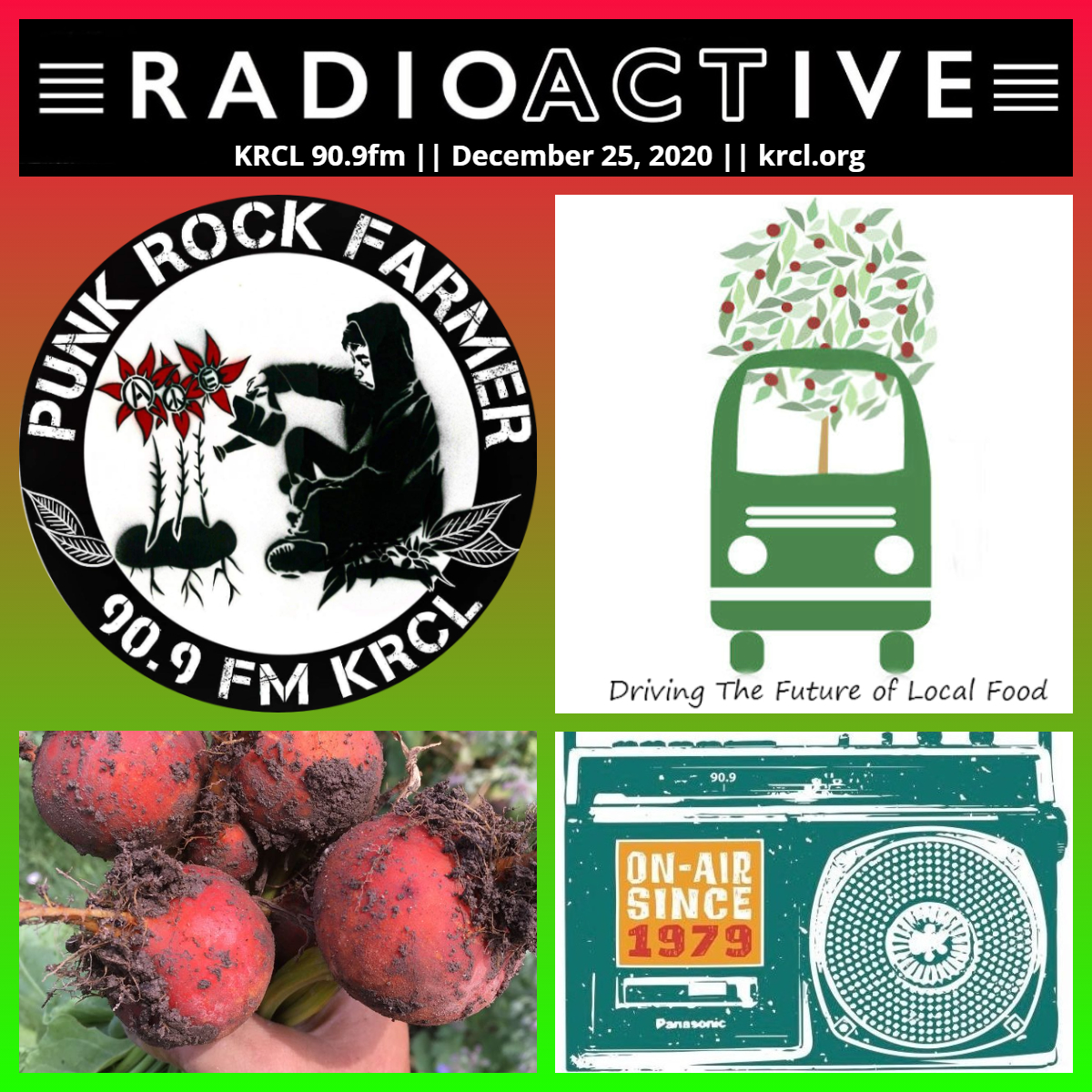 Utah Podcast Week: Huddle up! For the last show of Utah Podcast Week, RadioACTive keeps with the theme of #PunkRockFarmerFridays by sharing The Green Urban Lunch Box Virtual Community Huddle with SLC Urban Farmers. Plus, USU's Green Thumb podcast on murder hornets, and homegrown holiday music from Denney Fuller and His Elaborate Elves and Patrick Vier.
As we count down the last of 2020, RadioACTive brings you another round of Utah Podcast Week. We pass the mic to share the work of Utah podcasters or interesting online events from the past year. Tonight:
Homegrown holiday music from Denney Fuller & His Elaborate Elves. To download their "It's Christmas Again" album, click here.
USU Green Thumb Podcast: Murder Hornets with Diane Alston, who heads the Biology Department at Utah State University. She's also the coordinator of USU Extension's Integrated Pest Management Program and co-director of its Utah Plant Pest Diagnostic Laboratory.
#UrbanFarmReport, featuring The Green Urban Lunch Box (GULB) Virtual Community Huddle. Panelists included the following SLC urban farmers:
Katie Nelson, GULB's Executive Director.

James Loomis of Wasatch Community Garden's Green Phoenix Farm, which works with women experiencing homelessness, and Seeds of Success, which works with single mothers. The farm also grows all of the starts sold at WCG's spring and fall plant sales.

Shad Stagl of Stagl Organics. To sign up for Stagl's 2021 Community Supported Agriculture shares, click here.

Madison Goodman of Mad Snacks Produce in Oakley, Utah, where the last frost was July 31 and the first frost was Aug. 23. Yep, that's a short growing season of about 50 days!

GULB's Hannah Goggin, Fruit Share VISTA coordinator; Jess Collette, Back-Farms Coordinator; Farm Hand Ali Schieg; and Harvest Leader Tucker Good

Kristen Kropp and Zach Hartlyn of B.U.G. Farms , which farms in open spaces and backyards in the Glendale neighborhood of SLC. Click here to sign up for their 2021 CSA.

Darin Mann of The Village Cooperative, a group committed to localizing the production of food by growing and distributing produce in a three-block radius of the Rose Park/Fair Park area. Click here to sign up for their newsletter.
Ogden-based singer-songwriter Patrick Vier shared his holiday song, Three Wise Men. Click here to download Vier's music.
Views, thoughts or opinions shared by guests are their own and do not necessarily reflect those of the board, staff or members of Listeners' Community Radio of Utah, 90.9fm KRCL. Tonight's RadioACTive team included:
Community Co-Host: Aldine, KRCL's Punk Rock Farmer
Executive Producer, Host: Lara Jones
Assoc. Producer: Billy Palmer
###