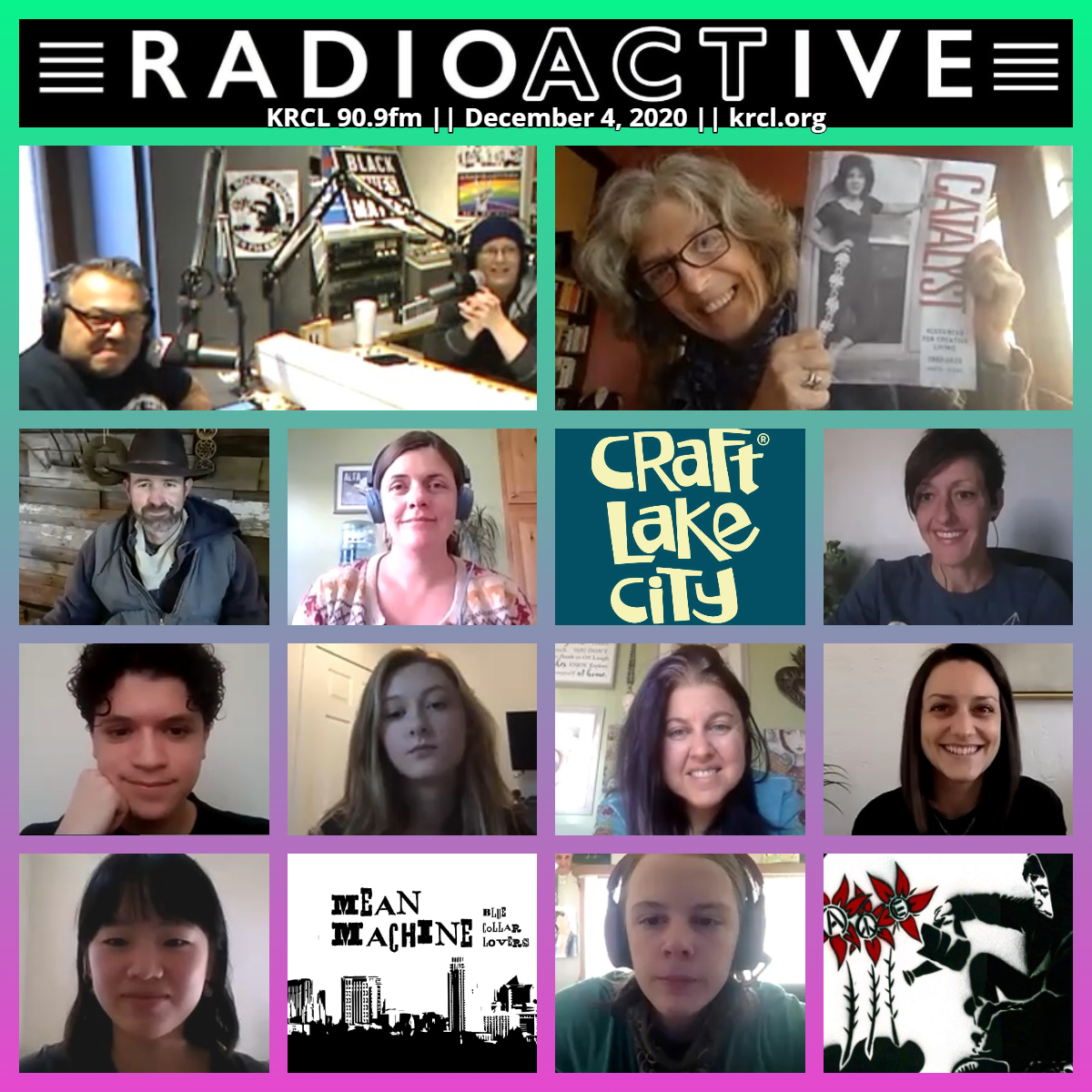 True tales from the agrihood with Aldine, KRCL's Punk Rock Farmer. Get tips for your next growing season from Molly Dockter of Pomona Produce during Al's #UrbanFarmReport. Plus, changing of the guard at Catalyst Magazine, Craft Lake City's Holiday Market, Christmas on Petersen Family Farm, Skywatcher Leo T and fresh, homegrown music Blue Collar Lovers.
Tonight's lineup:
Fresh, homegrown music from Blue Collar Lovers, a band incubated in Spy Hop's Musicology Program. To check out BCL's debut album, Mean Machines, click here. Blue Collar Lovers are:
Kyrie Green - Vocals
Ivan Sherburne - Drums
Urah Goh - Keyboards & Vocals
Gavin Palmer - Guitar & Vocals
Malory Emery - Guitar & Vocals
Cortez Sherburne - Bass
Craft Lake City's Second Annual Craft Lake City Holiday Market started today. RadioACTive got the inside scoop on the online market and virtual meetups with local makers, featuring:
Amy Stocks, community inclusion and event coordinator at Craft Lake City. CLC is a nonprofit with a mission to educate, promote and inspire local artisans while elevating the creative culture of the Utah arts community through science, technology and art.
Elif Ekin, Bohemian Baklava. Elif punks out traditional Turkish Baklava with different flavor infusions, syrups and nut mixtures. Her baklava was a favorite in Martha Stewart's kitchen and was in Everyday Food magazine November 2008. Supplying to cafes and restaurants around SLC, she loves to personalize flavors, colors and themes for each customer.
Chanda McConnell,

Vidas Wax Works

. Chanda's unique blend of all-natural beeswax, additive-free soy wax, and phthalate-free fragrance oils come from her determination to create candles and wax melts out of better ingredients
Shop locally and support Utah-based creatives from the comfort of home! Explore exhibitor profiles to find one-of-a-kind, handmade gifts for everyone on your holiday list at this year's Holiday Market from Craft Lake City. Special virtual meetups are scheduled for Friday, Dec. 11 & 18, from 6:00-8:00 p.m. Meet up with your friends and family in avatar form! Use your computer to connect with 40+ Utah artisans in custom-made, virtual reality, winter wonder-worlds!
Farmer Luke of Petersen Family Farm, which has created a socially-distanced Christmas experience with intimate wagon rides for you and your pod, even an audience with Santa (COVID-complaint, of course.) Click here to reserve your time on December 11, 14, 16, 17, 18, 19, 21 and 22. There's also a holiday market and fresh-cut trees, all in the heart of the SL Valley at 11887 S. 4000 W. Riverton.
SkyWatcher Leo T went deep again on monoliths and the bone-to-satellite scene in 2001: A Space Odyssey, as well as Regulus making its appearance near the gibbous moon. Click here to catch up on Leo's tales of many cultures, one sky.
Each Friday, Al features a punk rock farmer during his #UrbanFarmReport. This week: Molly Dockter of Pomona Produce, a small-scale, earth-conscious, customer-centric market farm operation based on multiple plots of land and one indoor grow space in the Salt Lake Valley.
Doing a COVID-pivot and due to the growing number of Utahns who want to start growing their own food, Dockter has revived her consultation and design services. Click here to book an appointment now, as your dreams of the next growing season start taking shape.
Views, thoughts or opinions shared by guests are their own and do not necessarily reflect those of the board, staff or members of Listeners' Community Radio of Utah, 90.9fm KRCL. Tonight's RadioACTive team included:
Community Co-Host: Aldine, KRCL's Punk Rock Farmer
Executive Producer, Host: Lara Jones
Assoc. Producer: Billy Palmer
###