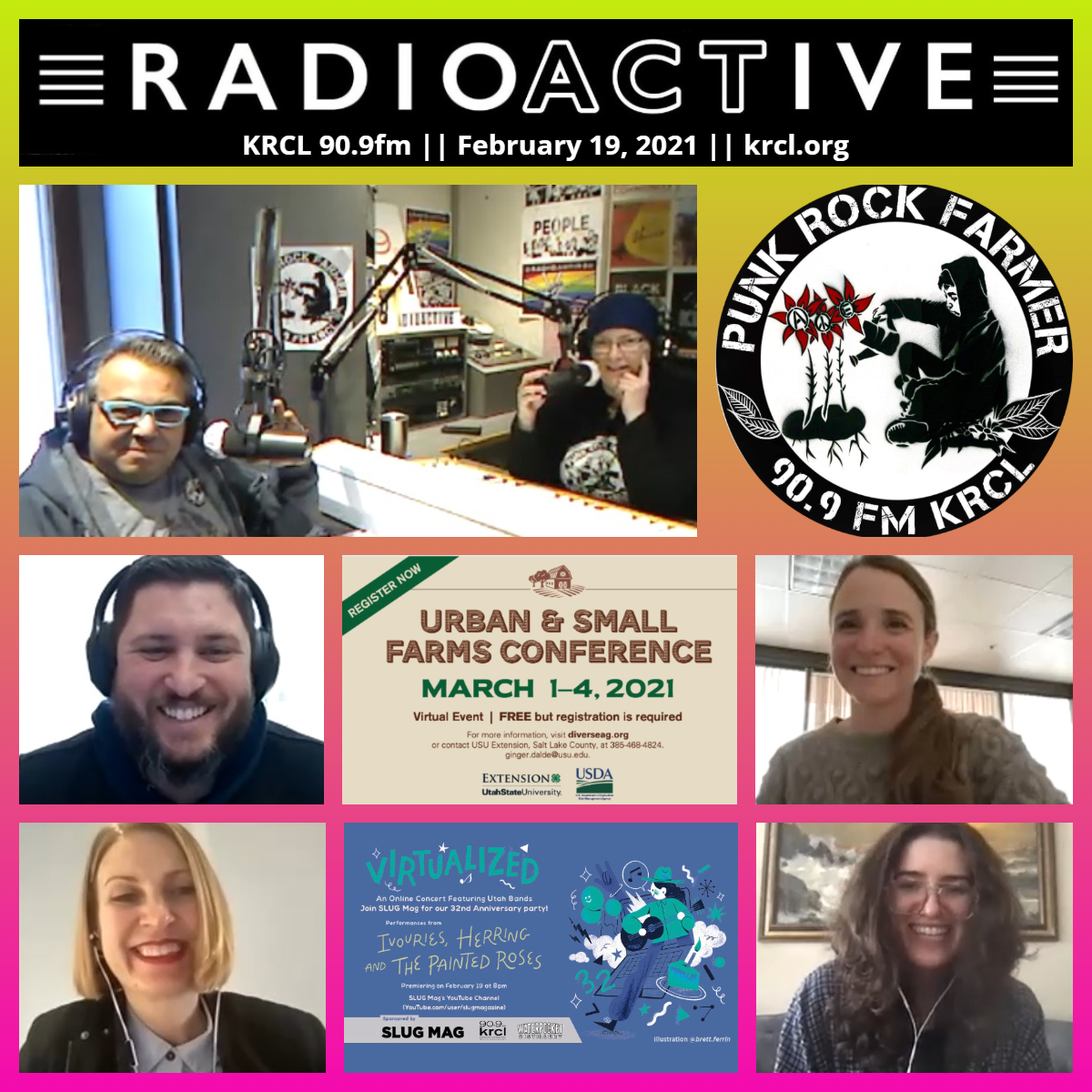 #PunkRockFarmerFriday helps you find your place in the agrihood. Featuring USU's 9th Annual Urban and Small Farms Conference -- which is all virtual this year. USU's Katie Wagner and Chad Page break it all down and dive deep during the Urban Farm Report. Plus, SLAC's New Play Sounding Series, Skywatcher Leo T's take on NASA's Mars touchdown, Red Acre Center and League of Women Voter's with legislative updates and fresh, homegrown music with SLUG Mag's Virtualized showcase, featuring Ivouries, Herring and The Painted Roses.
Tonight's lineup:
SLUG Mag celebrates 32 years with a Virtualized showcase tonight at 8:00 p.m. online. RadioACTive got a preview with Executive Editor Angela Brown and Megan Keller, who put together tonight's showcase featuring Ivouries, Herring and The Painted Roses. Brown and Keller shared a song from each band during tonight's show. Want to watch the showcase? Click here at 8:00 p.m. tonight.
Many cultures, one sky with SkyWatcher Leo T, who geeked out with the rest of us as NASA's Perseverance rover touched down on Mars earlier this week. Follow him on Facebook -- click here.
Symbria Patterson of Red Acre Center. Patterson is watching the following bills on Utah's Capitol Hill:
#3QuickPicks on the People's Business at the Utah Legislature with Catherine Weller of League of Women Voters of Utah.
Wednesdays through March 5: Join the League of Women Voters of Utah for a virtual lunch at 11:00 a.m. each Wednesday. They'll catch you up on the action and answer your questions about the 2021 General Session of the Utah Legislature.
Cassie Stokes-Wylie of Salt Lake Acting Company
, which announced its first-ever
New Play Sounding Series Festival
last month.
February 23: HAIRY & SHERRI by playwright Adrienne Dawes, 7:00 p.m. virtual reading. Directed by Melissa Crespo, Hairy and Sherri are an "adorkable" interracial couple living in gentrified East Austin. When they very graciously and publicly open their home to Ryshi, a 12-year-old former foster care youth with special needs, Hairy and Sherri are confronted with the ugly realities of their marriage and "good" intentions. FREE. Visit saltlakeactingcompany.org for reservation info and to stay up-to-date on future SLAC events.
Al's #UrbanFarmReport, featuring the Virtual 9th Annual Urban and Small Farms Conference, March 1-4 online and FREE. Want to start a micro-farm? You got it. Plant a small fruit orchard? Check. Take flowers to market? It's all part of the conference, which Aldine talked about with:
Views, thoughts or opinions shared by guests are their own and do not necessarily reflect those of the board, staff or members of Listeners' Community Radio of Utah, 90.9fm KRCL. Tonight's RadioACTive team included:
Community Co-Host: Aldine, KRCL's Punk Rock Farmer
Executive Producer, Host: Lara Jones
Assoc. Producer: Billy Palmer
###