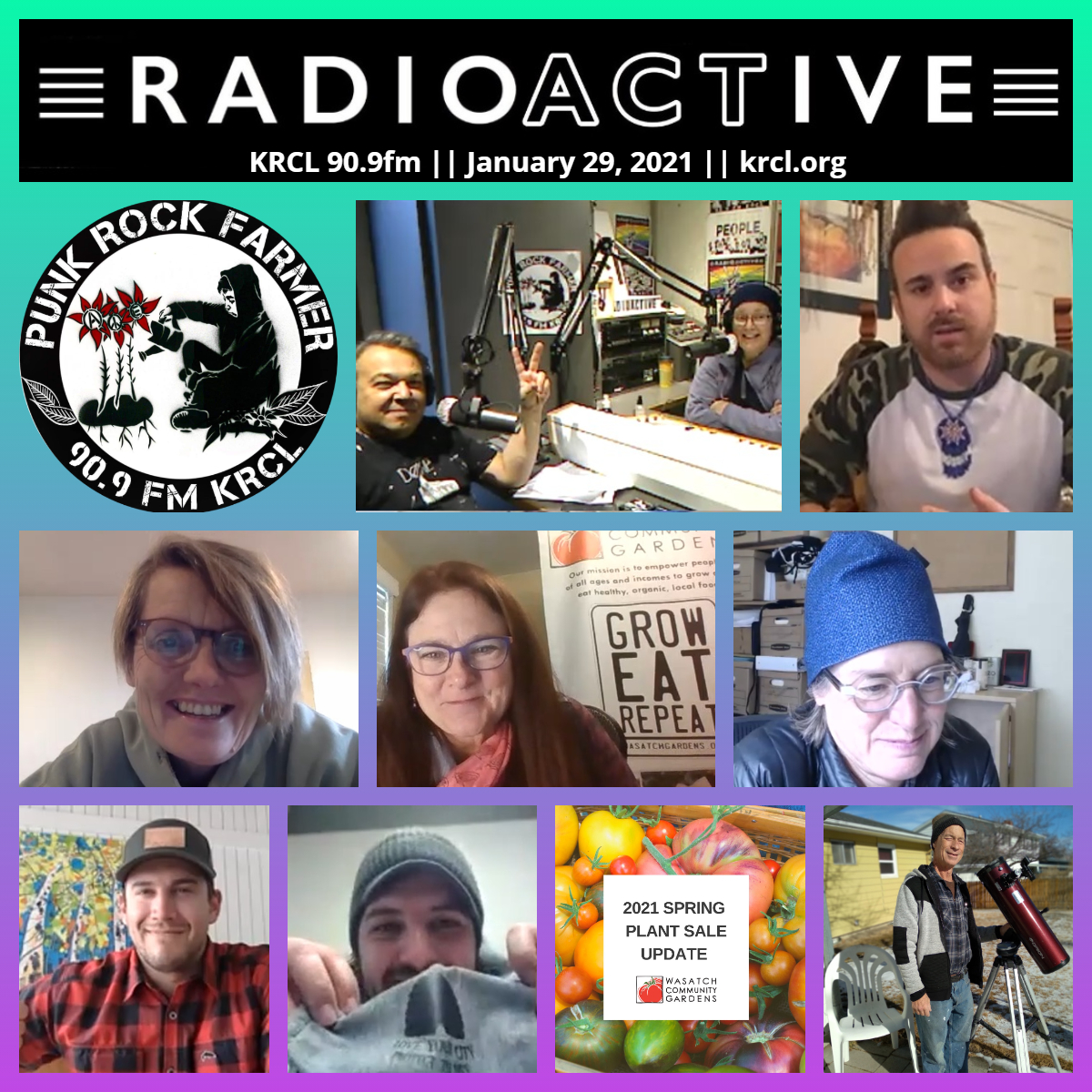 #PunkRockFarmerFriday with Wasatch Community Gardens' Marybeth Janerich and Ashley Patterson, Utah Farm and Food Conference's Symbria Patterson, #QuarantineCocktails with City Weekly and Root'd Cafe, SkyWatcher Leo T, #3QP on the People's Business, and fresh, homegrown music from Tom Bennett.
Editor's note: Enjoy this Extended Play version (above) of RadioACTive's #PunkRockFarmerFriday, which was edited for time on KRCL 90.9fm today. So little time, so much to grow!
Tonight's lineup:
Fresh, homegrown music from Tom Bennett, who's finishing up his first studio You Make Me Howl, his first studio album. Click here to visit his website and sign up for the album now!
#QuarantineCocktails with Pete Saltas City Weekly and Sean Steinman of Root'd Café, which toasted folks working on legislation in support of small businesses at the Utah Legislature with a Bucket of Mimosas.
#3QuickPicks on the People's Business at the Utah Legislature with Emily Walsh of League of Women Voters of Utah. Tonight's picks: clean air bills.
Many cultures, one sky with SkyWatcher Leo T. Follow him on Facebook -- click here.
Symbria Patterson of Red Acre Center, which earlier this month held their annual Utah Food & Farm Conference. Patterson is keeping an eye on legislation affecting the agrihood, including H.B. 94 -- Microenterprise Home Kitchen Amendments.
True tales from the agrihood on Al's #UrbanFarmReport, featuring Wasatch Community Gardens' Community Education Director Marybeth Janerich and Executive Director Ashley Patterson.
Views, thoughts or opinions shared by guests are their own and do not necessarily reflect those of the board, staff or members of Listeners' Community Radio of Utah, 90.9fm KRCL. Tonight's RadioACTive team included:
Community Co-Host: Aldine, KRCL's Punk Rock Farmer
Executive Producer, Host: Lara Jones
Assoc. Producer: Billy Palmer
###