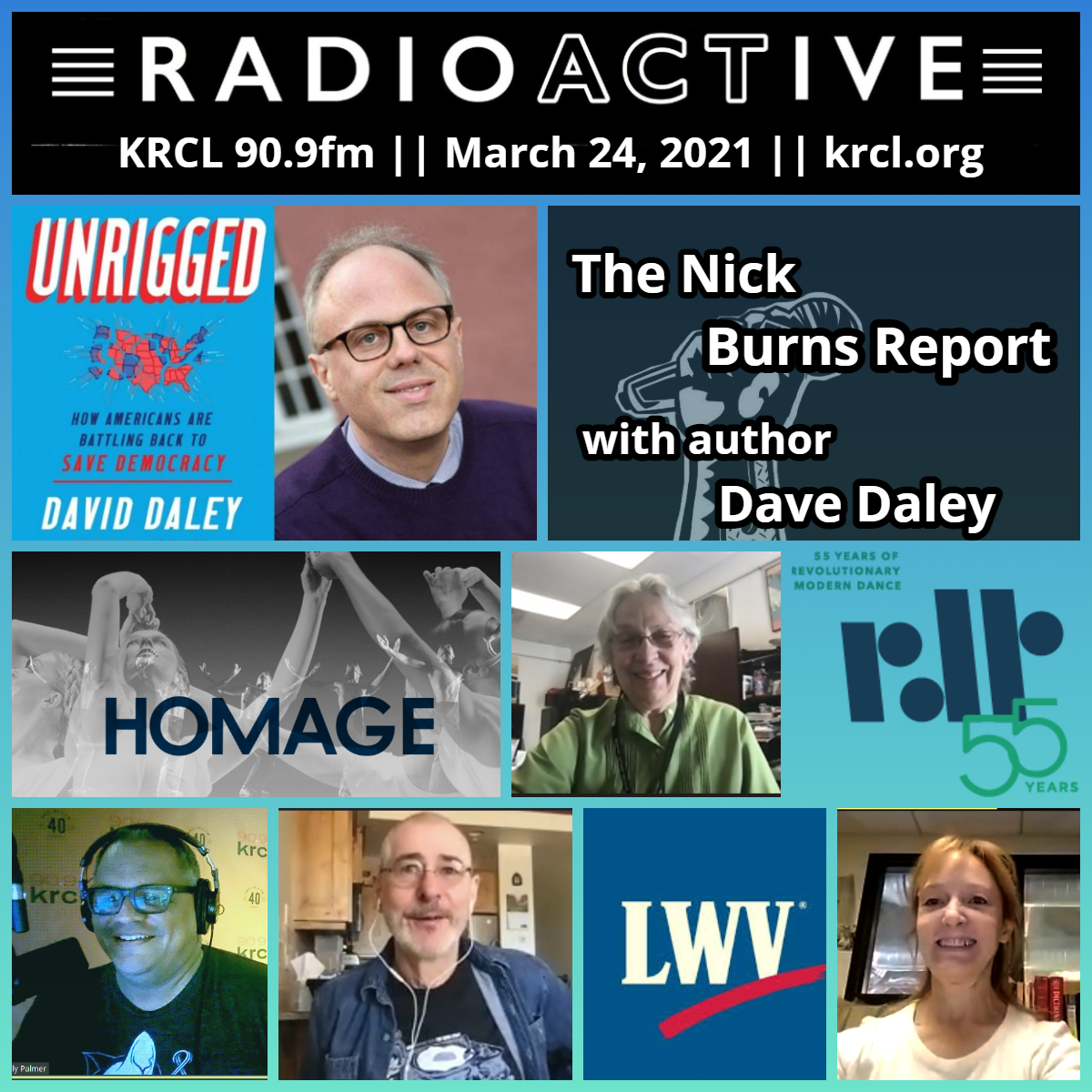 The Nick Burns Report with David Daley, author of Unrigged: How Americans Are Battling Back to Save Democracy, The League of Women Voters Utah on Fair Redistricting, Plus HOMAGE with RDT.
Tonight's Lineup:
Rallies & Resources:
Thursday, March 25:
Advancement and Retention of Women in Utah: A Discussion of the Women Lawyers of Utah 2020 Initiative Report, 2:00–3:00 p.m. online. Event by the Salt Lake Chamber. Mica McKinney, Vice President for Legal Affairs and General Counsel for Utah State University and Co-Chair of Initiative for Advancing Women in the Law for the Women Lawyers of Utah, for a discussion of Barriers to Advancement: Findings from the 2020 Study of Gender & Racial Bias in Utah's Legal Profession. Ms. McKinney will be joined by an expert panel of employment and in-house General Counsel from Utah companies to discuss how the report findings cross-business sectors and how Utah businesses can address better address the challenges and barriers facing professional women in Utah.
Fri-Fri, March 26-April 1:
Saturday, March 27:
Call It What It Is, a Hate Crime! Stop Anti-Asian Violence, Stop China-bashing!, 11:00 a.m. at International Peace Gardens in Jordan Park. Event by PSL Salt Lake - Party for Socialism and Liberation and Answer Coalition. PSL Salt Lake and the ANSWER Coalition stand in solidarity with the Asian community in the midst of the horrific, racist and misogynist massacre that took place in Atlanta on March 16. Six Asian women were among the eight-shot to death at point-blank range. The alarming rise in hate crimes over the past year correlates to an increasingly hostile U.S. foreign policy towards China. Join us on March 27 for a national day of action demanding an end to anti-Asian racist violence, an end to violence against women and an end to white supremacy now!
Linda Smith executive director and creative director of the Repertory Dance Theater talked about Celebrating 55 years of revolutionary modern dance with a virtual evening of historical modern dance masterpieces called HOMAGE, featuring choreography by Doris Humphrey, José Limón, Donald McKayle, and Elizabeth Waters. The virtual concert will open with a live-streamed event on April 23.
Redistricting: How Citizens Can Have a Voice
The Nick Burns Report:
Community Co-host, Nick Burns sits down with Author and Journalist, David Daley to talk about his book, Unrigged: How Americans Are Battling Back to Save Democracy. Daley is a senior fellow at FairVote and the former editor of Salon. his book Unrigged is a follow-up of his book Ratf**ked, with a researched account of how Americans are reclaiming control of the democratic process. A frequent media commentator on voting rights, Daley recounts how activists in Utah's San Juan County, countered gerrymandering and elected 2 Native American commissioners for the first time, and looks at the work of the voting rights activists throughout the country who helped realize the blue wave that swept Florida, Maine, Utah, and other states in 2018.
Views, thoughts or opinions shared by guests are their own and do not necessarily reflect those of the board, staff or members of Listeners' Community Radio of Utah, 90.9fm KRCL. Tonight's RadioACTive team included:
Assoc. Producer/Host: Billy Palmer

Community Co-Host: Nick Burns

Production Volunteer: Natalie Benoy

Executive Producer: Lara Jones
###