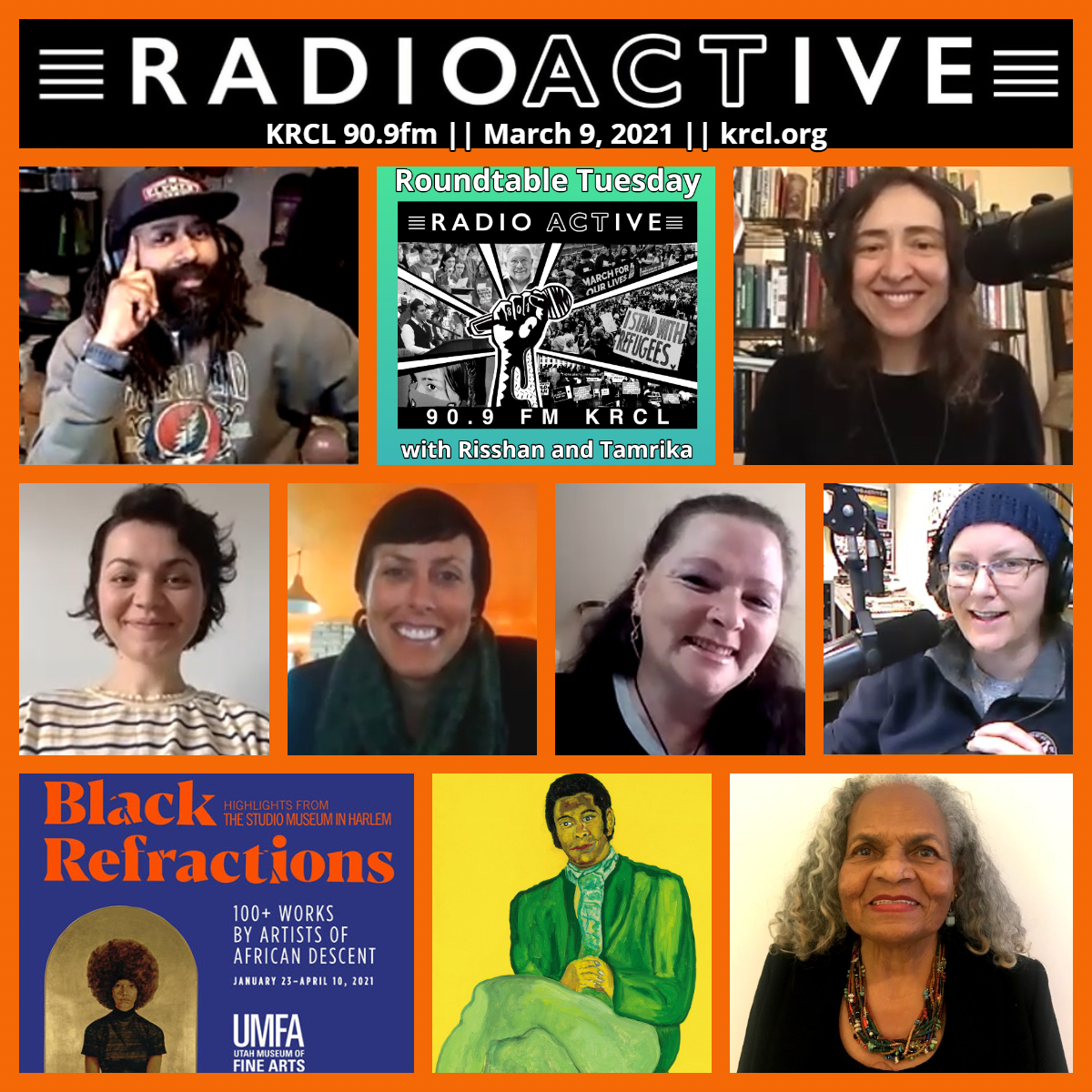 It's been about a year since our communities went into lockdown due to the pandemic. #RoundtableTuesday Community Co-Hosts Risshan and Tamrika talk to a panel of mothers about the ups and downs of life during COVID. Plus, #3QuickPicks with The City Library and reflections on Black Refractions at the UMFA.
Led by Community Co-Hosts Risshan Leak and Tamrika Khvtisiashvili, tonight's lineup included:
Ashley Farmer of the Utah Museum of Fine Arts. Farmer shared UMFA Docent Ruth Gooden's community reflection on Portrait of a Young Musician, a painting by Beauford Delaney and one of a hundred works of art on display in Black Refractions: Highlights from The Studio Museum in Harlem at UMFA. The exhibit ends April 10th, so click here to schedule your visit today!
#3QuickPicks with Azra Basic, adult services librarian at the Marmalade Branch, Salt Lake City Public Library. All available for online hold and curbside pickup, Basic's book picks on motherhood included:
#RoundtableTuesday tackled life during COVID with a panel of mothers, including:
Misty Mulkey of Powerful Moms Who Care, a program of Crossroads Urban Center. She's also case manager, volunteer coordinator and peer support specialist at Journey of Hope. JoH is a nonprofit that improves the lives of harmed and justice-involved women and girls by empowering them through case management, mentorship and social advocacy. She's also mother to three amazing daughters and two incredible grandsons -- which she calls her biggest achievement.
Azra Bašić is the Adult Services Librarian and acting manager at Marmalade Branch, Salt Lake City Public Library. In partnership with RadioACTive, Bašić curates #3QuickPicks to highlight books, movies and downloads in the library's catalog to extend Roundtable Tuesday conversations beyond the show. A mother of two, she makes sure to always include "a pick for the little ones" in her weekly library list.

Jo Leak, team leader at a tech company, mother, human rights activist and drummer. Married to Risshan Leak, they have two beautiful and wild children — Elijah, 10, and Canyon, 7 — three chickens and an amazingly sweet dog, Mo. Leak says her family is very involved in the community and always seeking ways to help out those in need. Pre-COVID, she traveled to India and Ghana for humanitarian projects.
Views, thoughts or opinions shared by guests are their own and do not necessarily reflect those of the board, staff or members of Listeners' Community Radio of Utah, 90.9fm KRCL. Tonight's RadioACTive team included:
#RoundtableTuesday Community Co-Hosts: Risshan Leak, Tamrika Khvtisiashvili
Exec. Producer, Host: Lara Jones
Assoc. Producer: Billy Palmer
###