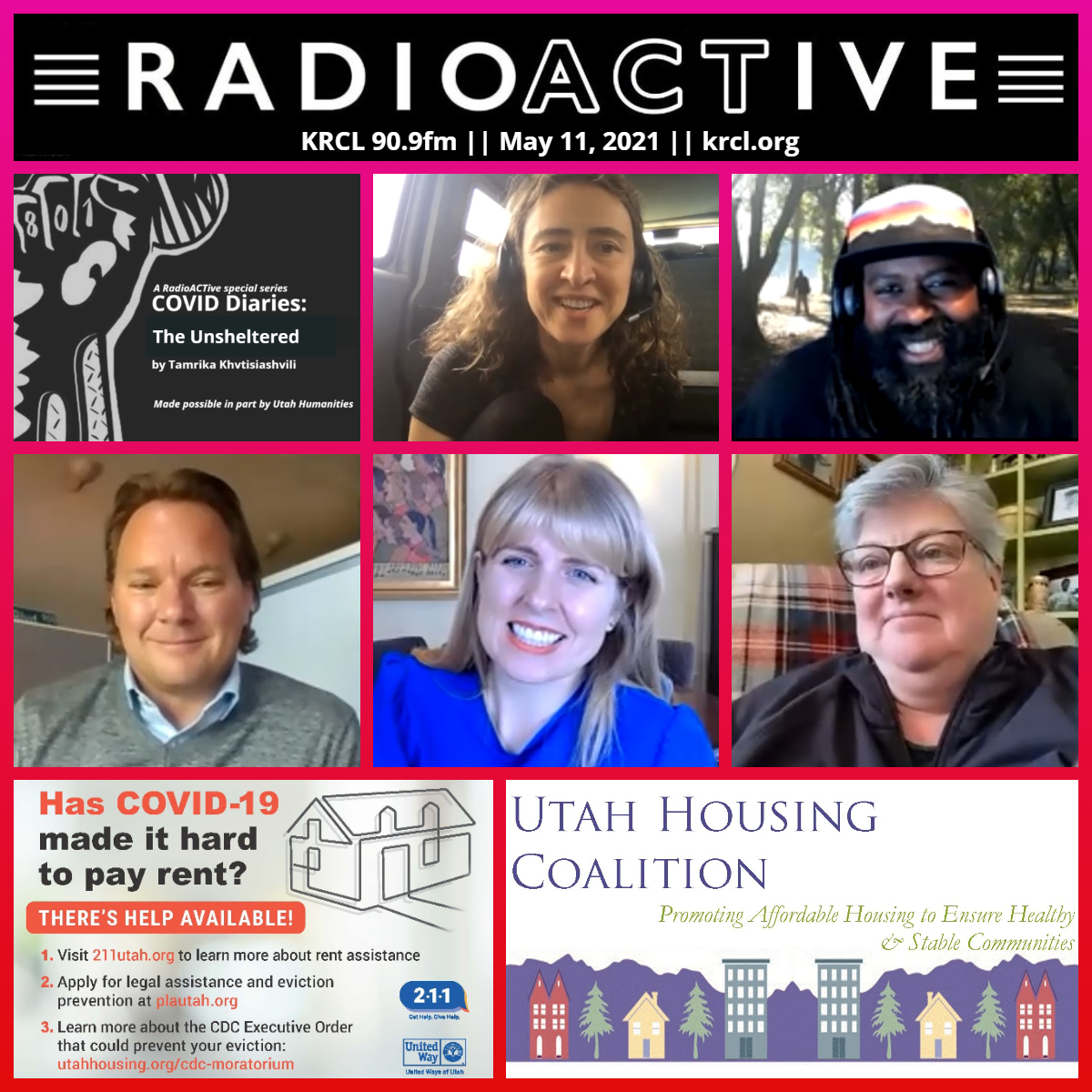 Tried buying a house or renting an apartment lately? The #RoundtableTuesday team tackles the high cost of living, a surging Utah economy and what it means for everybody. #COVIDdiaries wraps with a look at unsheltered members of our community and the organizations helping them. #3QuickPicks on housing and the sharing economy from The County Library.
Tonight's lineup:
RadioACTive's COVID Diaries series wraps with a look at the ways COVID has impacted unsheltered members of our community and the organizations that try to help them. Featured in this piece:
Amanda Christensen, Volunteers of America, Utah
Janida Emerson, CEO, Fourth Street Clinic
Metlida Lindgren, The INN Between
Tanya Mantania, Maud's Café
Maura Sanchez, Open Air Shelter Coalition SLC and Just Media Utah
Rex, unsheltered individual
Alabama, unsheltered individual
Babs Delay, Urban Utah Homes & Estates
Dale Keller, Salt Lake County Health Department
COVID Diaries is a special RadioACTive series, made possible in part by Utah Humanities. To hear other entries in this series, click here.
#3QuickPicks on housing and the sharing economy from Azra Basic at the West Valley Branch of The County Library:
Tiny houses built with recycled materials by Ryan Mitchell. "This book describes methods of building tiny homes using recycled materials and provides examples of how different people built their own tiny homes."

Shared living: interior design for rented and shared spaces by Emily Hutchinson. "Shared houses traditionally get a bad rap but the reality of global housing markets has made sharing a longer-term solution for many. Featuring 21 shared homes around the world that are getting it right, Shared Living uncovers the potential of shared spaces."

Dear Librarian by Lydia Sigwarth. "When Lydia was five years old, she and her family had to leave their home. They hopped from Grandma's house to Aunt Linda's house to Cousin Alice's house, but no place was permanent. Then one day, everything changed. Lydia's mom took her to a new place ― not a house, but a big building with lots of books, and tall, tall steps. The library."
REMINDER: All county libraries have extended their visits to one hour. To check out or download one of today's #3QuicKPicks, visit thecountylibrary.org.
#RoundtableTuesday panel discussion on the high cost of living in our community, featuring:
Views, thoughts or opinions shared by guests are their own and do not necessarily reflect those of the board, staff or members of Listeners' Community Radio of Utah, 90.9fm KRCL. Tonight's RadioACTive team included:
Community Co-Hosts: Tamrika Khvtisiashvili, Risshan Leak
Exec. Producer: Lara Jones
###