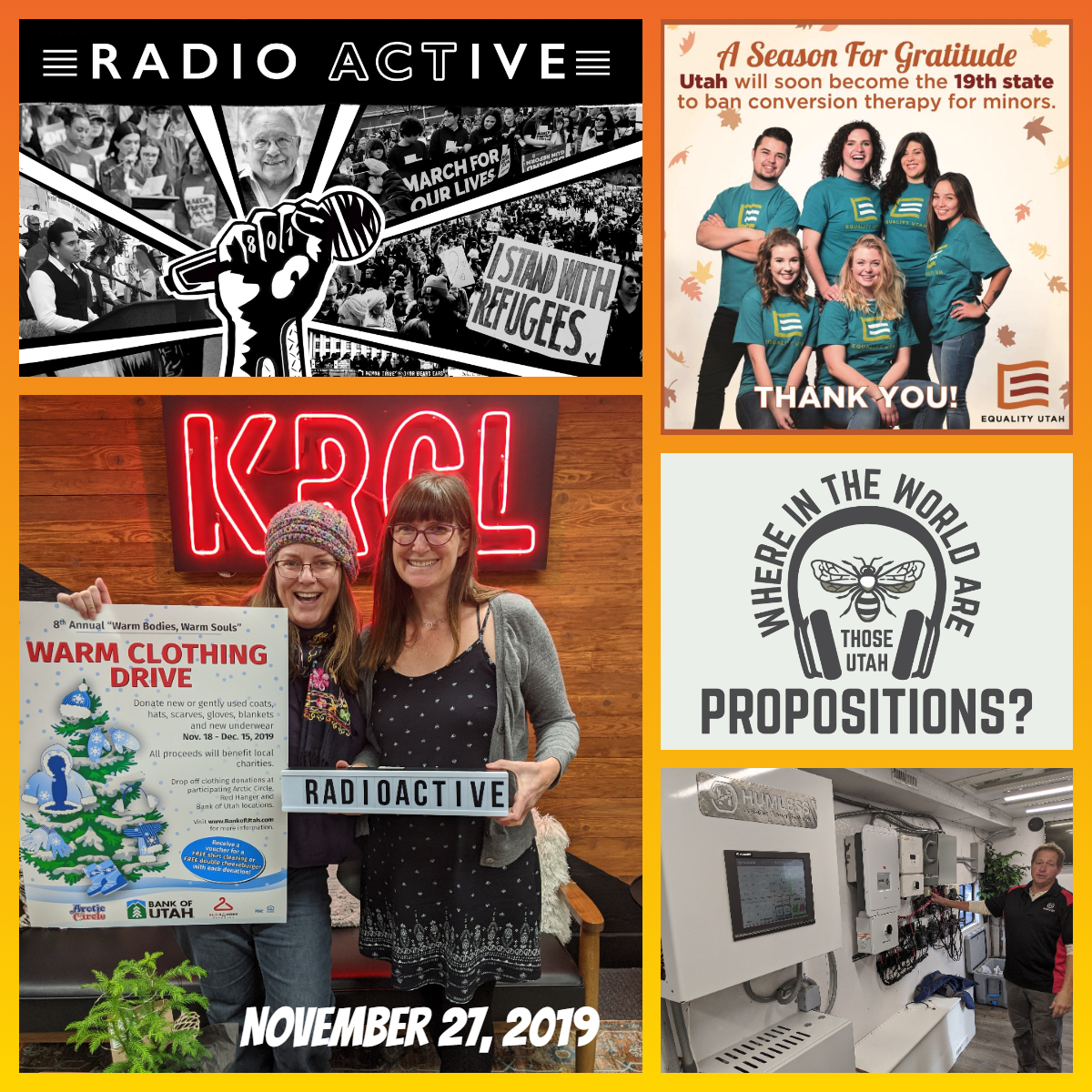 Troy Williams does a major happy dance as Gov. Herbert announces rule to ban conversation therapy for minors. Tree Utah gets ready to celebrate 30 trips around the sun. PAWlitical Mayor-Elect Dexter announces his plans once he assumes office. Off grid with Utah-based Humless. And the final episode of Better Utah's Where in the World Are Those Utah Propositions podcast.
Tonight's lineup:
Gov. Gary R. Herbert has directed the Utah Division of Occupational and Professional Licensing, Utah Department of Commerce, to file a new rule to ban conversion therapy on minors in the state of Utah. Equality Utah's Troy Williams shared how it was done, which included calling on the power of Billy Porter.
According to Gov. Herbert's office: "DOPL is working to file the rule, which will be published on Dec. 15. The 30-day public comment period will end on Jan. 14, 2020. The new rule could be effective as early as Jan. 22, 2020."
TreeUtah turns 30 this month. Executive Director Amy May stopped by to invite folks to the tree planting and conservation nonprofit's 30th birthday Tuesday, Dec. 3, from 5:00-8:00 p.m. at Chase Mill at Tracy Aviary.
Utah-based Humless takes it 100% off-the-grid with a stop at KRCL. Lara Jones spoke with CEO Glenn Jakins and Eric Lobdell (pictured above, lower right), Humless emergency energy and electrical storage expert. Check the Take Charge of Your Power roadshow calendar for the nearest event location and date to meet up with Lobdell.
PAWlitical Mayor-Elect Dexter barked plans for the first 100 days of his term. Mike Tams and Marissa Hernandez, his service human and nanny, respectively, and Callista Pearson of Salt Lake County Animal Services helped to translate.
Dec. 10: Dexter takes the oath of office, 4:00 p.m. at the weekly meeting of the Salt Lake County Commission, 2001 S. State St., SLC.
The SBs The HBs & The BS, aka Episode 3 of Where in the World Are Those Utah Propositions, from Alliance for a Better Utah and independent audio producer Josh Romney.
Got a story you'd like to share on the show or an issue you'd like us to cover? Record a voice memo on your smart phone, then email it to radioactive@krcl.org. Keep it under 3 minutes and be sure to include a name and phone number in the message.
Views, thoughts or opinions shared by guests are their own and do not necessarily reflect those of the board, staff or members of Listeners' Community Radio of Utah, 90.9fm KRCL. Tonight's RadioACTive team included:
Exec. Producer/Host: Lara Jones
Assoc. Producer: Billy Palmer
###