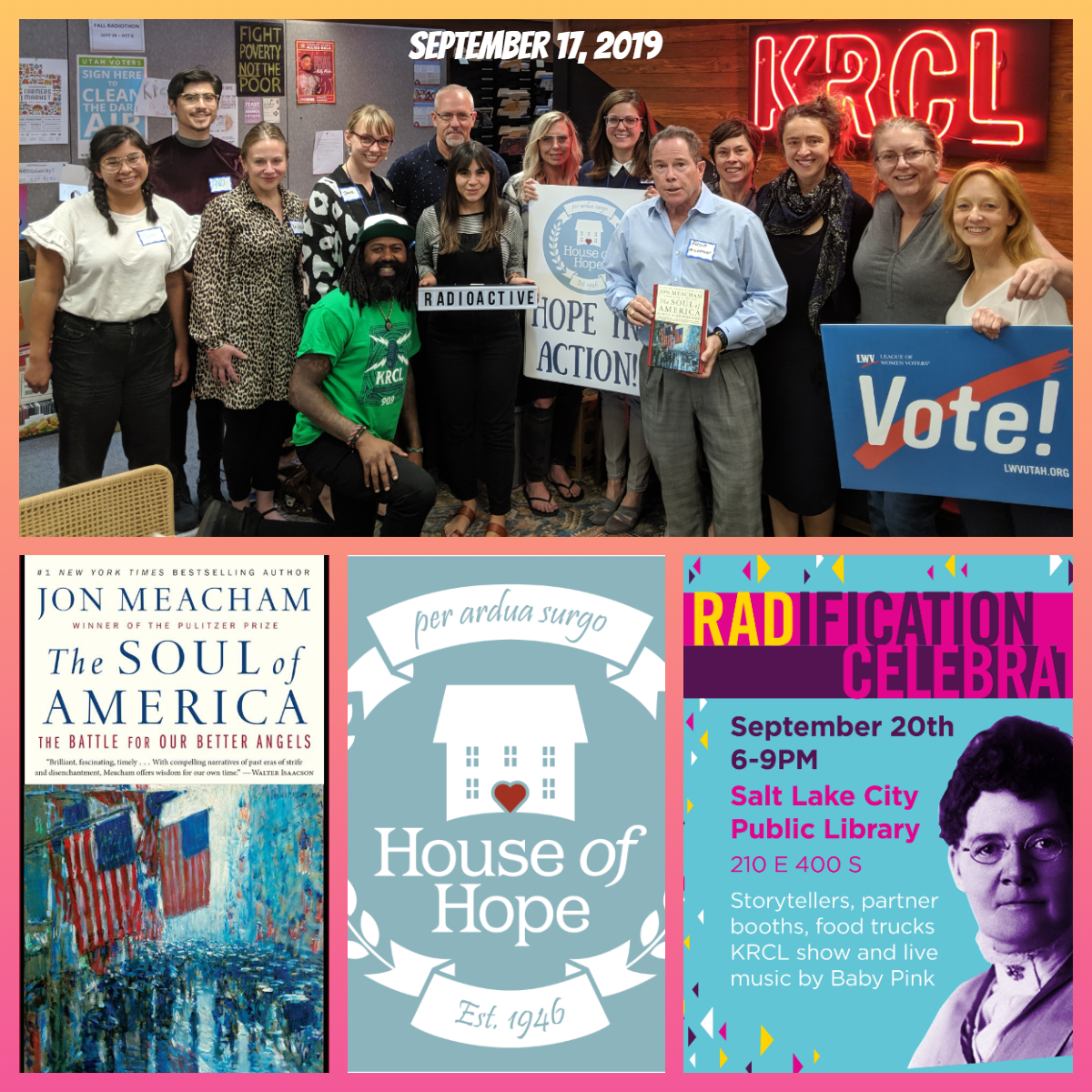 House of Hope to build The Nesting Place, activists start Vigila La Migra SLC, Pictures of Palestine, essay contest on 'Why a Free Press Matters,' League of Women Voters of Utah with a preview of this week's interim session of the Utah Legislature
Tonight's lineup:
A preview of Better Days 2020: Radification Celebration with Neylan McBaine.
Dr. Tamrika Khvtisiashvili and artist Hadley Rampton on Pictures of Palestine, an evening at Phillips Gallery from 6:00-8:00 p.m. Thursday, Sept. 19.
A preview of Rampton's water colors exhibit set to open Sept. 20, the duo will lead a panel discussion and Q&A about their personal experiences in Palestine. Joining the conversation will be Frances Remillard, Utahns for a Just Peace in the Holy Land; Carrie Skarda, Combatants for Peace; and Nora Abu-Dan, Emerald Project.
In conjunction with the annual McCarthey Family Foundation Lecture Series, Phil McCarthey issued a call for original student essays on "Why a Free Press Matters." Click here for entry requirements, categories and respective essay questions.
11/9: Renowned presidential historian Jon Meacham will discuss "The Free Press in America: Past & Present Challenges" at the 14th Annual McCarthey Family Foundation Lecture Series: In Praise of Independent Journalism. Winners of the 2019 Essay Competition will be honored at this event, which is free and open to the public.
Catherine Weller of the League of Women Voters of Utah talked about issues at this week's special and interim sessions of the Utah Legislature. Click here for audio/video of the First Special Session of the 63rd Legislature, which was held earlier this week. To listen to the sessions past or present, visit le.utah.gov.
Following up on last week's conversation Movements Including X - MIX of Nashville, RadioACTive spoke with activists Anco Nahuel and Belen Gonzalez of Vigila La Migra SLC and Kristen Knippenburg of Red de Solidaridad - Salt Lake.
September is the 30th anniversary of National Recovery Month. More than 23 million Americans are in recovery from substance use disorders. RadioACTive spoke with House of Hope, a non-profit organization providing substance use disorders treatment, education, and prevention services to Utah families since 1946. Guests included House of Hope Graduate Kelsie Ivy, Salt Lake Clinical Director Rourk Baird, and Development Specialist Josie White.
Later this month, the group will launch a fundraising campaign to support The Nesting Place, a place for new mothers to find hope in recovery.
Got a story you'd like to share on the show or an issue you'd like us to cover? Record a voice memo on your smart phone, then email it to radioactive@krcl.org. Keep it under 3 minutes and be sure to include a name and phone number in the message.
Views, thoughts or opinions shared by guests are their own and do not necessarily reflect those of the board, staff or members of Listeners' Community Radio of Utah, 90.9fm KRCL. Tonight's RadioACTive team included:
Exec. Producer/Host: Lara Jones
Assoc. Producer: Billy Palmer
Community Co-Host: Amy Dominguez
Volunteer: Risshan Leak
###