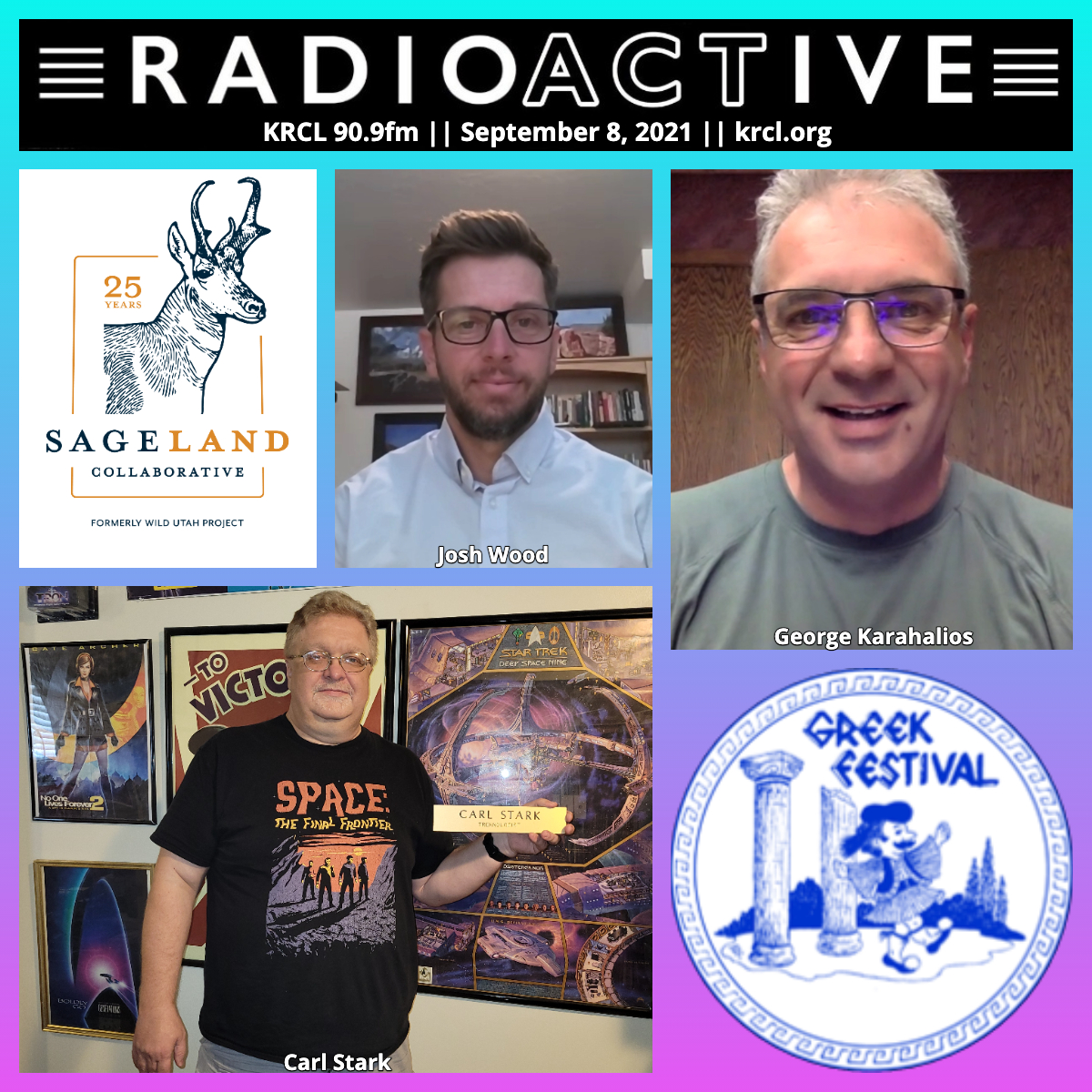 Latest COVID numbers. Sageland Collaborative fieldwork opportunities. Greek Fest is back. Star Trek Day with a treknologist Carl Stark of Starfleet Command's Seventh Fleet.
Tonight's show:
COVID Update, featuring a clip of Dr. Brandon Webb, Intermountain Healthcare Infectious Diseases Physician. The Utah Department of Health reported 4,657 new cases of COVID from the extended Labor Day weekend: 27 deaths, 1,151 school-aged cases, and 482 hospitalizations. And as of this morning, Intermountain said patient volumes (which includes both COVID and non-COVID patients) for staffed beds in their ICUs is at 99%. To watch the full Community Update with Dr. Webb, click here.
The Wild Utah Project is celebrating its 25th anniversary with a new name that reflects how the nonprofit has extended its conservation efforts regionally. RadioACTive talked with Executive Director Josh Wood of Sageland Collaborative - Formerly Wild Utah Project about the six different ways you can volunteer in the field. Click here to explore them and sign up as a volunteer.
The Salt Lake City Greek Festival is back this Friday, Saturday and Sunday next to Holy Trinity Cathedral, 279 S. 300 W., SLC. RadioACTive got a preview with George Karahalios. Festival admission = $3. Children 5 and under are free. Admission is FREE all three days to students with a current student ID.
Today is Star Trek Day, which celebrates the debut of the original Star Trek series in 1966. RadioACTive spoke with Carl Stark, a certified treknologist and part of the fan group known as Starfleet Command's Seventh Fleet. Look for them at FanX, where they'll have a booth to raise funds from fellow sci-fi lovers to support the work of Best Friends Animal Sanctuary.
Views, thoughts or opinions shared by guests are their own and do not necessarily reflect those of the board, staff or members of Listeners' Community Radio of Utah, KRCL 90.9fm. Tonight's RadioACTive Summer Break was produced and hosted by Lara Jones.
###