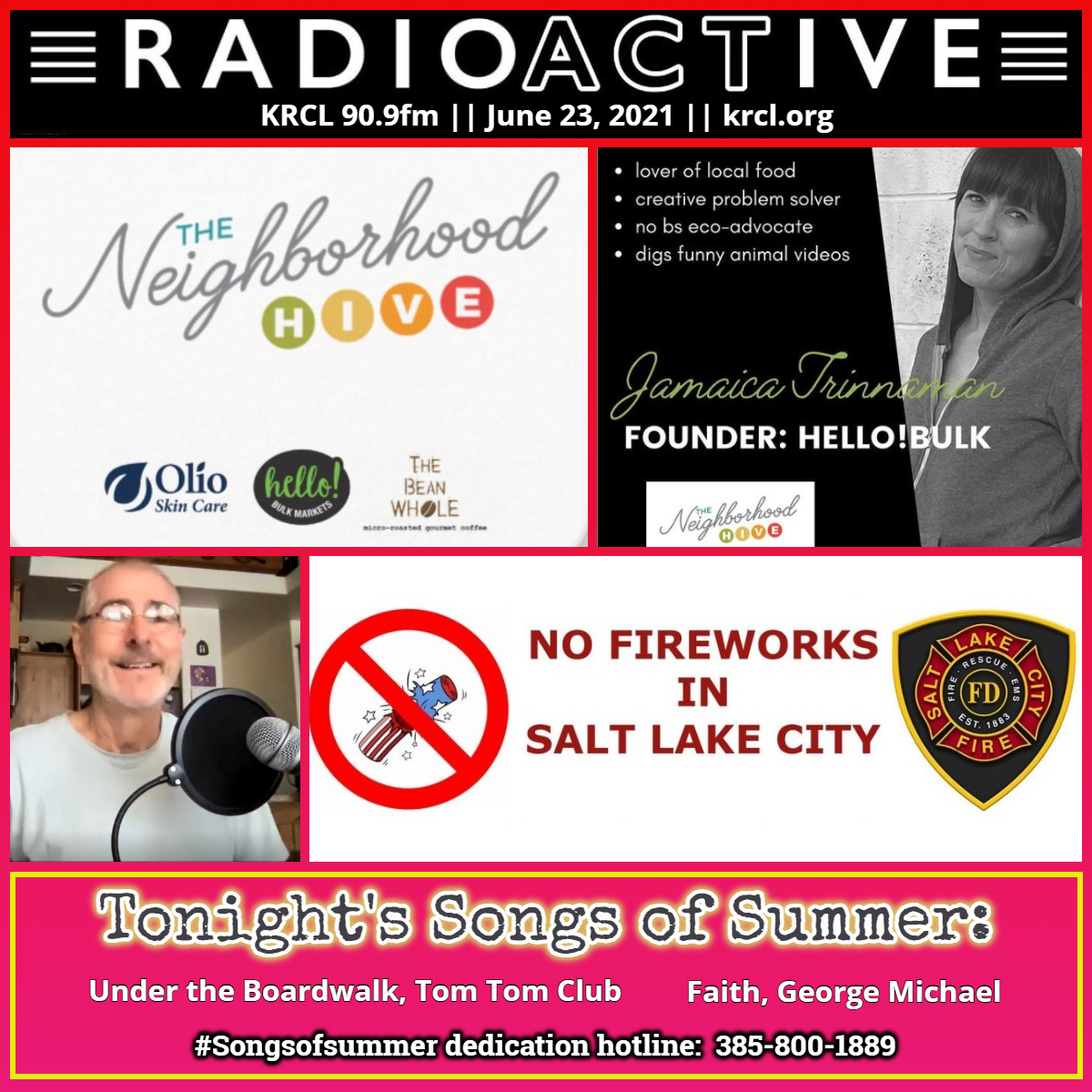 #Songsofsummer with Nick Burns. The Neighborhood Hive SLC gets off the ground. Wildlife pets and fireworks grounded. Click here to listen on-demand to tonight's show or the last two weeks of any other show on KRCL.
HelloBulk Markets Founder Jamaica Trinnaman on The Neighborhood Hive SLC, Utah's 1st locals-only experiential shopping and learning space. Other founding small businesses include The Bean Whole and Olio Skin & Beard Co. Check out their Kickstarter campaign going on right now to try and raise $47,500 by June 27th.
Faith Heaton Jolley of Utah Division of Wildlife Resources explained why it's not a good idea to take wildlife home. Not only is it illegal in many cases, but there are disease and safety concerns. That cute pup gets big later, folks. So, if you stumble across wildlife in distress, DWR recommends that you leave the animal where you found it and do not touch it. If you have concerns or the animal appears to be sickly or injured, you can contact the nearest DWR office. For more tips about how to safely live with wildlife, visit the Wild Aware Utah website.
At a press conference yesterday, Salt Lake City Mayor Erin Mendenhall announced a city-wide ban on personal use of fireworks. to extreme temperatures and drought. City residents are encouraged to participate in one of the public fireworks shows taking place for the July holidays, with fireworks at Jordan Park on the Fourth of July and at Liberty Park on the 24th of July. In place till further notice, the ban includes:
Class C fireworks, also known as Common fireworks, and Novelty fireworks - these are fireworks most commonly sold at neighborhood fireworks stands and includes smoke bombs and sparklers
Open burning, to include recreational fires - this is any fire built for things like cooking or warming.
For more information on the City's drought conditions and fire safety please visit https://www.slc.gov/mayor/drought
RadioACTive Listener Survey: While we're off, we're not idle. We're thinking of ways to make the show even better and more local. Click here to answer 10 questions and share your thoughts on KRCL's show for grassroots activists and community builders.
Views, thoughts or opinions shared by guests are their own and do not necessarily reflect those of the board, staff or members of Listeners' Community Radio of Utah, 90.9fm KRCL. Tonight's RadioACTive Summer Break was produced and hosted by Lara Jones.
###