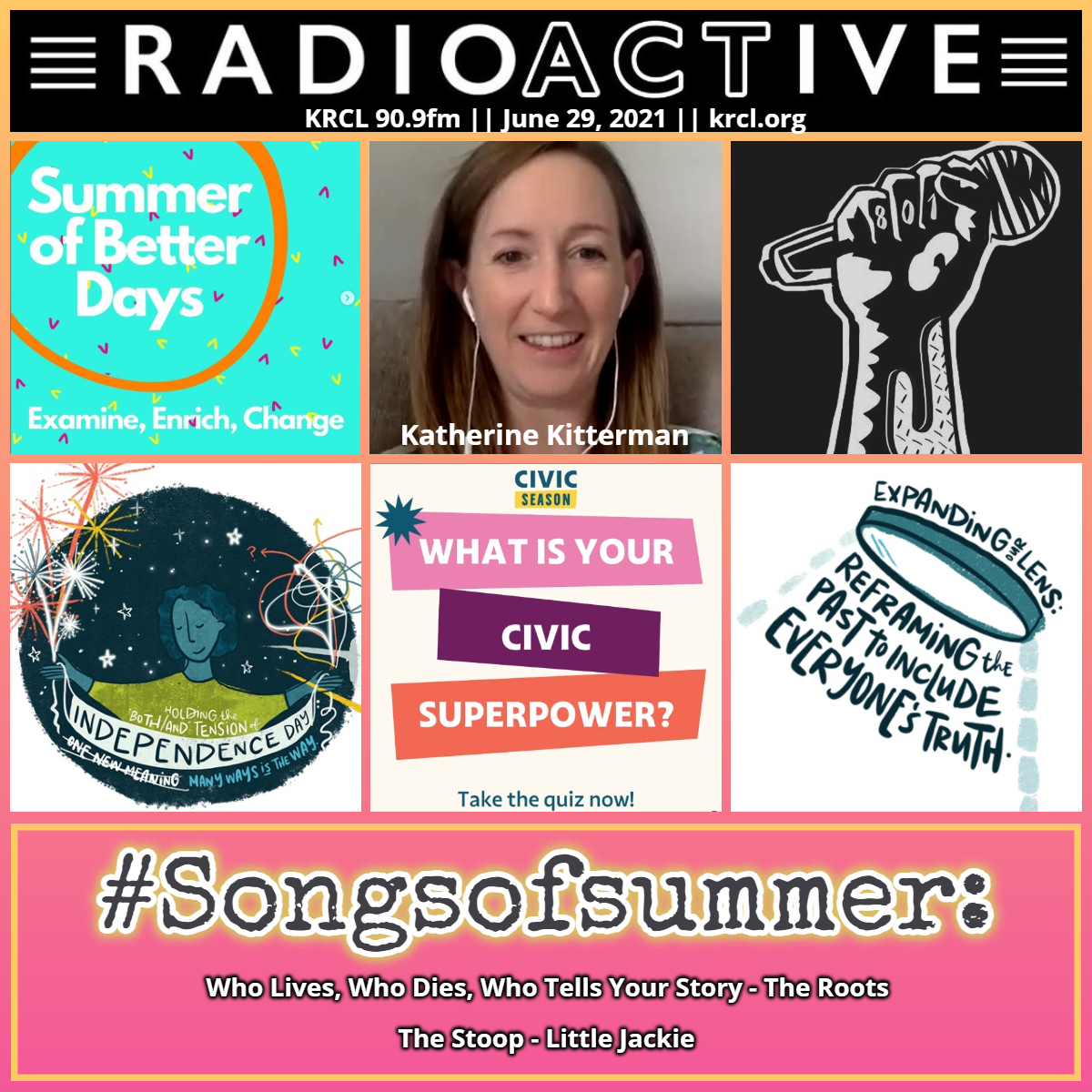 Better Days invites you to spend your summer as a Civic Season. #Songsofsummer adds Hamilton, Little Jackie the playlist. Click here to listen on-demand to tonight's show or the last two weeks of any other show on KRCL.
Better Days 2020's Katherine Kitterman started us off by adding a Hamilton song — Who Lives, Who Dies, Who Tells Your Story — to our #songsofsummer playlist. Better Days is joining the Smithsonian and hundreds of institutions across the country to launch #CivicSeason – an annual tradition that makes room for all of our stories and inspires us to write the next chapter together. Follow their social media for resources and ideas all summer long to help us examine the past, enrich the present, and change the future.
Now-Aug. 28: Utah Women Making History Exhibit, Springville Museum of Art. "Features Utah artist Brooke Smart's illustrations of Utah women (and a few men), who worked to advocate for women and advance their communities. For more information, visit utahwomenshistory.org."

Volunteers wanted: Better Days is ooking for passionate Utahns with skills in grant writing, fundraising, and community outreach who can volunteer 5-10 hours a month to help us grow our impact. If this sounds like you, send an email to info@betterdays2020.org
Songs of Summer. Call 385-800-1889 to dedicate a song to someone in your life, a nonprofit or cause you support, or just shout out to the community some musical inspiration. Be sure to include your first name and neighborhood. Or use your smart phone to record a voice memo (set audio quality to highest), then email it to radioactive@krcl.org.
RadioACTive Listener Survey: While we're off, we're not idle. We're thinking of ways to make the show even better and more local. Click here to answer 10 questions and share your thoughts on KRCL's show for grassroots activists and community builders.
Views, thoughts or opinions shared by guests are their own and do not necessarily reflect those of the board, staff or members of Listeners' Community Radio of Utah, 90.9fm KRCL. Tonight's RadioACTive Summer Break was produced and hosted by Lara Jones.
###