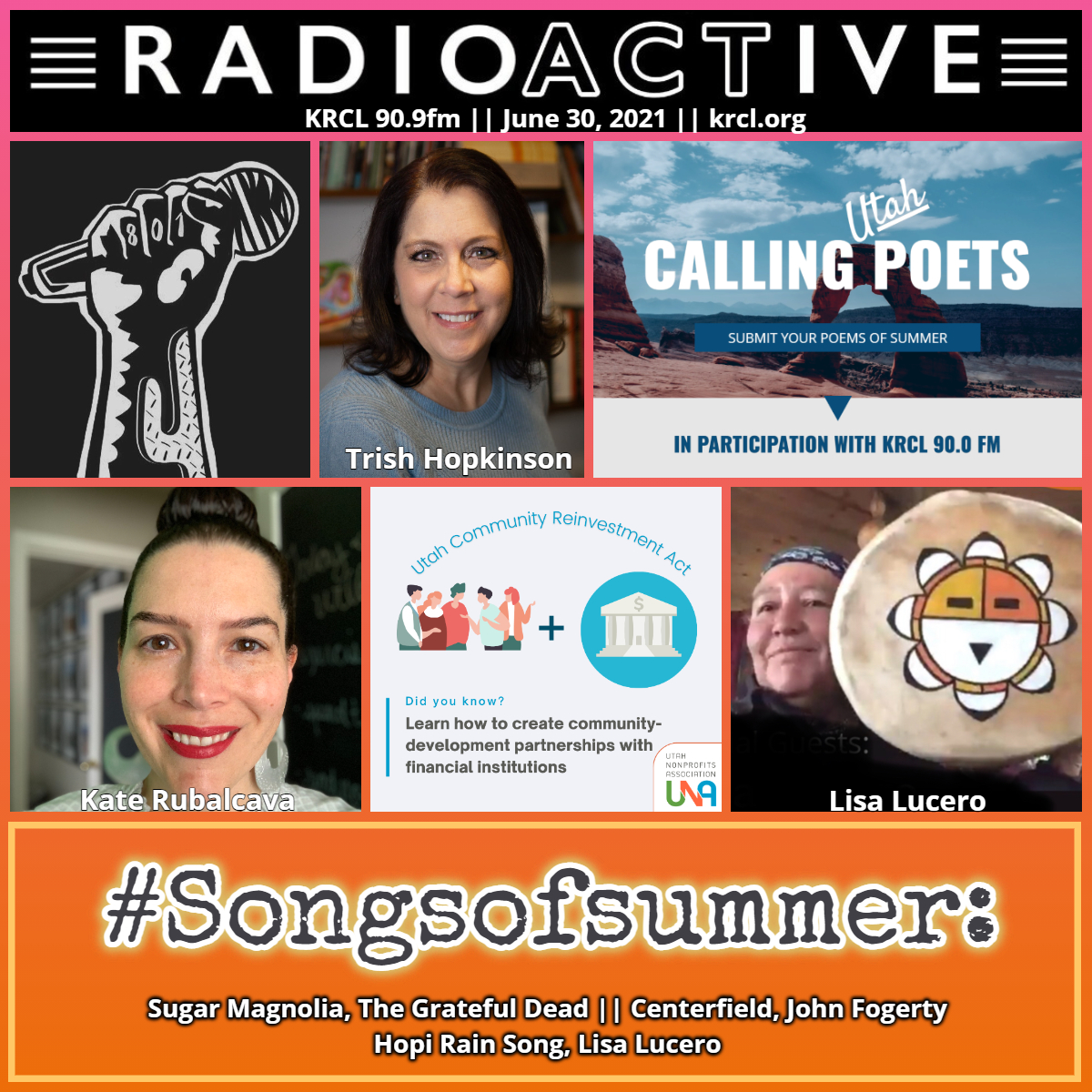 Poetry Still Happens: RadioACTive and Rock Canyon Poets' Trish Hopkinson issue a call for submissions. Weller Book Works offers up #3QuickPicks -- because Baby, It's Hot Outside! An invitation to a healing drum circle. More #songsofsummer.
#PoetryStillHappens: Poet Trish Hopkinson of Rock Canyon Poets shares some of her work and helped RadioACTive issue a call for submissions for your summer poems. The series gives a platform to poets living and working in Utah to share audio of an original poem. Hopkinson and RadioACTive's Lara Jones will curate submissions for broadcast as well as inclusion in a forthcoming chapbook.
The theme is poems of summer, which means:

Poems written this summer
Themes of summer and current events are encouraged but not required
Contemporary poetry
Spoken word/slam poetry
Deadline: Labor Day!!!!
#3QuickPicks from Catherine Weller of Weller Book Works in Trolley Square, SLC. Tonight's theme: Baby, It's Hot Outside!
"Fire Season: Field Notes from a Wilderness Lookout" by Philip Connors

"Where the Water Goes: Life and Death Along the Colorado River" by David Owen

"The Oasis This Time: Living and Dying with Water in the West" by Rebecca Lawton

Bonus picks: John Wesley Powell's "Report on the Lands of the Arid Region of the United States" (1878) and Wallace Stegner's "Beyond the Hundredth Meridian: John Wesley Powell and the Second Opening of the West" (1953) — two picks that show the heat and the drought in the Western U.S. have been on folks minds for awhile
Tonight's #songsofsummer picks:
Trish Hopkinson of Rock Canyon Poets dedicated "Sugar Magnolia" by The Grateful Dead to her husband while recalling memories of seeing the Dead perform that song back in the day.

Lisa Lucero of Medicine Drum Circle sang her song of summer, a traditional Hopi rain song. She also issued an invitation to a healing drum circle this Friday, July 2, 6:30 p.m. at the International Peace Gardens in Jordan Park, 1000 S. 900 W., SLC.

Kate Rubalcava of the Utah Nonprofits Association dedicated "Centerfield" by John Fogerty "to all of the amazing nonprofit professionals out there. These folks show up every single day regardless of extreme weather conditions or a pandemic to serve their non-profit missions and communities."
Call 385-800-1889 to dedicate a song to someone in your life, a nonprofit or cause you support, or just shout out to the community some musical inspiration. Be sure to include your first name and neighborhood. Click here to check out RadioACTive's #songsofsummer playlist so far.
###