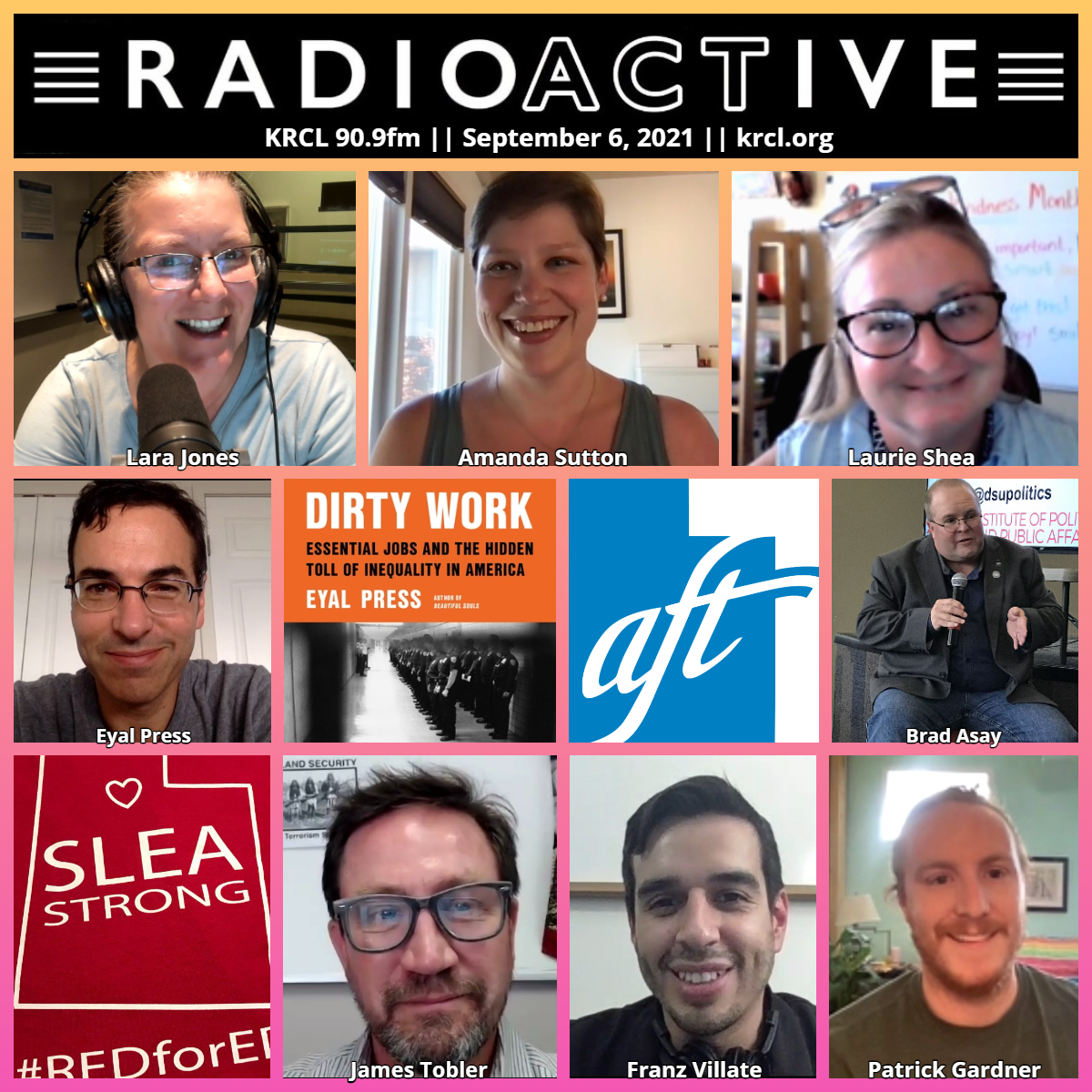 A RadioACTive mashup of Labor Day and #SongsofSummer, featuring teachers and union folks sharing live on the job and their favorite songs. Plus, author Eyal Press on his new book, Dirty Work: Essential Jobs and the Hidden Toll of Inequality in America.
Tonight's show:
Brad Asay, president of AFT Utah, which represents 1,500 folks in nine chapters throughout the state — a mix of higher ed, public ed and public employees. Song: Born in the U.S.A. by Bruce Springsteen.
Amanda Sutton, who teaches first and second grade at The Open Classroom, a charter school in the SLC School District. She's been a teacher for 12 years. Song: 9 to 5 by Dolly Parton.
James Tobler, president of the Salt Lake Education Association and a history teacher at Highland High School. Song: There is Power in a Union Billy Bragg.
A teacher of K-6 students at both Washington and Beacon Elementary Schools, Laurie Shea has been an art teacher for 26 years. Song: Anne Feeney's version of Union Maid.
Eyal Press, author of Dirty Work: Essential Jobs and the Hidden Toll of Inequality in America. Songs: Dirty Work by Steely Dan; Which Side Are You On by Pete Seeger.
Franz Villate, a history teacher at Innovations Early High School. Song: Our Generation by Ernie Hines
Horizonte Science Teacher Patrick Gardener. Song: She Works Hard for the Money by Donna Summer.
Views, thoughts or opinions shared by guests are their own and do not necessarily reflect those of the board, staff or members of Listeners' Community Radio of Utah, KRCL 90.9fm. Tonight's RadioACTive Summer Break was produced and hosted by Lara Jones.
###